Nintendo Switch Cases: The best carrying cases and screen protectors for every budget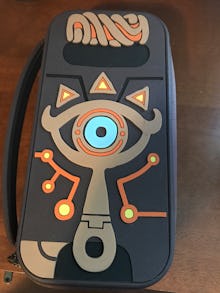 Unless you were lucky enough to snag the Master Edition of Zelda: Breath of the Wild, complete with your very own Sheikah Slate Nintendo Switch carrying case, you're going to need a case (and maybe a screen protecter) to protect your beloved Nintendo Switch when you're on the go. That old T-shirt isn't going to help you if you drop it on the train.
We've rounded up six Nintendo Switch carrying cases, from bespoke to rugged, that will suit any budget.
Nintendo Switch Cases: High-end carrying cases
Investing in protecting your tech is important, especially if you're commuting or you travel frequently. For the seriously stylish and heavy-duty rugged, there are a couple of options that will keep your Switch safe while you're on the go.
High-End Nintendo Switch Carrying Cases: Waterfield City Slicker Case (starting at $79.99 at SFbags)
Waterfield makes gorgeous cases for mobile devices, including this gorgeous 3DS case that I've been sporting for the last three years. Its Switch carrying case, priced at $79 for the base model, is just as stylish. It's the grown-up, leather-worked case that you won't be embarrassed to carry with you. 
High-End Nintendo Switch Carrying Cases: Pelican Custom Nintendo Case ($69.78 at The Pelican Store)
If you're looking for a more rugged solution, Pelican has developed a custom Nintendo Switch case with foam inserts, priced at $69.78, that fit the Switch and your favorite Switch games. This is a full case, so it likely won't fit in your messenger bag, but it's a brilliant solution if you end up on an African safari and need a dose of Mario Kart 8 Deluxe to tide you over.
Nintendo Switch Cases: Licensed carrying cases
Nintendo's licensed cases are a cheap and easy way to keep your Switch protected from minor damage and small falls. 
Licensed Nintendo Switch Carrying Cases: PDP Nintendo Switch Starter Kit, Screen Protector ($32.99 at Amazon)
PDP's starter kit case is a semi-hard shell case that'll only run you $32.99 on Amazon. There's nothing particularly exciting or innovative about the case (and users will attest to the quality), but if you're looking to save a few dollars, PDP's case is understated and decently made. Additionally, the starter kit comes with a screen protector, applicator, cleaning cloth, earbuds, Joy-Con armor and thumb caps, which add up to be a great value.
Licensed Nintendo Switch Carrying Cases: HORI Tough Pouch ($17.99 at Amazon)
For a little extra money, the "HORI Tough Pouch" appears to be a great buy and has been better received than the PDP case. At $17.99 on Amazon, it's an under $20 case that will cushion your Switch — even if it won't do much to protect the screen.
Nintendo Switch Cases: Handmade carrying cases
These handmade carrying cases are more sleeves than protection, but they're cute, creative alternatives to snooze-worthy traditional cases.
Handmade Nintendo Switch Carrying Cases: BlueRobotto Polyester Case (starting at $24 at Etsy)
This case from BlueRobotto has a couple of layers of protective foam to keep your Switch secure while you're on the go. There are a couple of different fabric options for the polyester print, including this Splatoon-inspired version, for $24.
Handmade Nintendo Switch Carrying Cases: EmSeeItch Protective Fabric Pouch ($26.42 at Etsy)
This fabric pouch from EmSeeItch isn't much more than a sleeve for your Switch, but it's a quirky, fun alternative to tossing a Switch in your bag (with your keys) sans protection. It's not going to absorb a drop, but it'll look all kinds of cute in your bag.
Check out more Nintendo Switch news and coverage
Looking for more Nintendo Switch news? Learn why the Switch cartridges taste so bad and how blind gamers are joining in on the Switch fun. Check out our comparison photos sizing up the Switch to the Wii U GamePad (part one and part two), find out how to make use of ethernet without the dock and the best way to get alerts when new stock arrives.