When will 'Outlander' season 3 premiere? 5 things we learned from the new trailer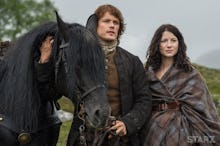 "Goodbye, Claire." These words, uttered by Jamie, simultaneously mark the opening of Outlander season three's trailer, and capture the tear-soaked ending of season two — when Jamie and Claire say goodbye to each other. Obviously the anticipation for the future of these two lovers is palpable. 
For those who don't recognize the finale scene at the beginning of the trailer, Jamie had lead Claire to the Standing Stones at Craigh na Dun. The two had sex one last — albeit brief — time, and then he delicately danced her back into the future. Claire didn't want to leave Jamie because she believed he was certain to die at the Battle of Culloden, but Jamie knew it was the only way his true love and their unborn daughter would be safe. 
Based on that and the rest of the 30-second trailer, here's what we can deduce about the upcoming season of Outlander.
1. Jamie survived the Battle at Culloden
If you've read Diana Gabaldon's novels, you know that the tearful goodbye between Jamie and Claire is not the last time they'd see each other. The third novel, Voyager, on which season three is based, makes it clear that Jamie did not in fact die at Culloden. Claire realizes this, and learns that, even though they've been apart for 20 years, she could possibly travel back through the Stones and see him again. 
2. The show's point of view may change
For the most part, the story of Outlander has been told through the eyes of Claire, however what we see in the trailer is somewhat different. The only voice we hear is Jamie's, which suggests his point of view might play a larger role in season three. 
"There's a lot of challenges to season three — there's a period of time where Jamie and Claire are apart; he thinks that he's lost her, or at least that she's alive and well but in the future, so what is he living for?" Sam Heughan, who plays Jamie, tells Variety. "What sort of man is he now?" These are important questions that will hopefully be answered.
3. We'll see Claire as a mother to Bree
The second season finale showed Claire and Bree later in their relationship (Claire's in her 50s and Bree's in her late teens or early 20s), but Balfe alludes to season three showing more of it. 
"Hopefully we'll see some of that journey between late 20s and 50," Caitriona Balfe, who plays Claire, told Variety. The trailer suggests the relationship between mother and daughter is strained, which would make prime drama for the following season.
4. We'll see more of Frank and Claire's dynamic as a couple
Frank Randall, played by Tobias Menzies, has confirmed he'll be making an appearance in season three in Claire's present. The season will follow their move to Boston and "the disintegration of their marriage."
"It's slightly Who's Afraid of Virginia Woolf? in Boston, which hopefully will be really exciting stuff to dig into," Menzies told Variety.
5. There will be some sort of reconciliation between Jamie and Claire
The trailer adeptly ends with Jamie saying softly, "I'll find you. I promise." Balfe  has said that the star-crossed lovers will be reunited after 20 years apart. It likely won't come without difficulties, but that's what makes for the best dramas, right?
When will Outlander season three premiere?
Thankfully, there has been some news about the long-awaited premiere date. According to Variety, Starz has slated Outlander to start up again in September. That's a mere year and two months between season two and season three for anyone trying to count. One possible reason for the #Droughtlander as fans are calling it is the production's move to South Africa.
What the season three trailer below.
Mic has ongoing TV coverage. Please follow our main TV hub here.