Donald Trump congratulates Turkey's Erdogan on his huge power grab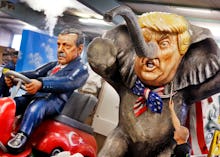 President Donald Trump personally congratulated Turkey's President Recep Tayyip Erdogan on successfully passing a referendum dramatically increasing the latter ruler's already considerable power — even as Turkish opposition leaders accuse Erdogan of fraud, Reuters reported Monday.
International election monitors have condemned the Turkish government's handling of the vote as "inadequate for the holding of a genuinely democratic referendum," according to CNN. The referendum switched Turkey from a parliamentary to a presidential republic, and among other measures, gave Erdogan sweeping new powers to appoint ministers, dictate a significant number of judicial appointments and unilaterally announce a state of emergency and dismiss parliament.
Erdogan won the referendum by a razor-thin 51.4% majority, according to Reuters.
The Turkish leader has spearheaded purges of tens of thousands of security and civil service workers, expelling many from government jobs and ordering others arrested. Amnesty International has accused Erdogan's government of keeping detainees from the purges in squalid conditions, where they were subject to beatings, starvation, lack of medical treatment and torture "including rape." Erdogan has additionally expanded state control or shut down over 150 media companies in Turkey.
Erdogan originally ordered the purges after a failed 2016 military coup resulted in hundreds of deaths and injuries, and now seems poised to rule as an autocrat.
Trump has regularly commended or downplayed the atrocities of autocratic leaders on the campaign trail and during his presidency, praising late Iraqi leader Saddam Hussein for killing terrorists "well," giving Syrian leader Bashar Assad an "A" rating and greeting Egypt's military dictator Abdel-Fattah el-Sissi by saying he is doing a "fantastic job."