'Super Smash Bros.' Nintendo Switch trailer: 'Melee' HD port video outrages fans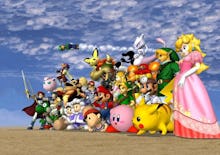 Games like Splatoon 2 and Mario Kart 8 Deluxe make the release of a Super Smash Bros. on Nintendo Switch almost seem inevitable. The latest installment in Nintendo's fighting game series, Super Smash Bros 4, could very well come to the Switch. That's probably why fans got so psyched to hear some semi-believable rumors surrounding the announcement of Smash Bros. Melee for Nintendo Switch.
Super Smash Bros. Melee for Nintendo Switch: What's the deal?
It's true that we saw a Nintendo Direct with no details in the way of Super Smash Bros. for Switch, but that wasn't the only big event last week. The video game tournament CEO Dreamland took to the internet to livestream the tournament. Though midway through streaming the tournament, CEO Dreamland debuted a commercial alluding to a possible Melee HD on Switch reveal. Check it out below.
The video heavily hints that we could see Smash Bros. Melee for Nintendo Switch at Shine 2017. If you want to see folks losing their minds at the thought of Melee for Nintendo Switch, check out the chat at five hours and 45 minutes into this video.
Super Smash Bros. Melee for Nintendo Switch: Could this actually happen?
Using a fake Melee announcement to build hype is sure to piss off fans of the game. Though eventually, a re-release of the 2001 Smash Bros. game could very well come to the Switch. Nintendo's virtual console is expected to bring numerous legacy games to the system, including those on NES, N64 and even Melee's console the GameCube. The introduction of the virtual console is likely, but announced in this way, not so much. 
There's still hope for bringing old Smash Bros. games to the Switch, however. Despite Nintendo's latest announcement surrounding Arms and Splatoon 2, Nintendo could be saving some nostalgic-y goodness for their E3 2017 presentation. With the expo in June, we'll know soon enough.
Check out more Nintendo news and coverage
Looking for more Nintendo Switch news? Learn why the Switch cartridges taste so bad and how blind gamers are joining in on the Switch fun. Check out our comparison photos sizing up the Switch to the Wii U GamePad (part one and part two), find out how to make use of ethernet without the dock and the best way to get alerts when new stock arrives.