Steve Stephens Dead: Suspect in video slaying of Robert Godwin Sr. shoots himself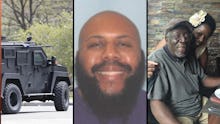 Steve Stephens, who allegedly killed 74-year-old Cleveland man Robert Goodwin Sr. and broadcast the wrenching footage on Facebook, killed himself after a brief pursuit by police in Erie, Pennsylvania on Tuesday, Pennsylvania State Police said in a tweet.
Cleveland Police Chief Calvin Williams said in a press conference that Pennsylvania State Police received a tip that Stephens white Ford Fusion had been spotted in a McDonald's parking lot. After pursuing Stephens, he apparently stopped the car and took his own life.
"We are grateful that this has ended," Williams said. "We would like to have brought Steve in peacefully, and really talked to him and find out exactly why this happened."
The broadcast of the seemingly random killing resulted in a massive manhunt by Cleveland police and other law enforcement agencies, which swept the city in search of Stephens but failed to immediately locate him. 
Officials, including Chief Williams and Mayor Frank Jackson, said there was a $50,000 reward for any information leading to Stephens' arrest. Police had been on the lookout for Stephens in a number of states, including New York, Pennsylvania, Indiana and Michigan, according to the Associated Press.
Members of Goodwin's family gave a tearful interview to Cleveland television station WOIO, and photos of the victim were widely shared online in tribute to his life.
"This man right here was a good man," son Robert Goodwin Jr. told WOIO. "I just hate that he's gone ... I don't know what I'm going to do. It's not real."
"I feel like my heart's gonna stop," another family member added.
Stephens, who worked as a children's mental health counselor in Cleveland for almost a decade, had reportedly reached "breaking point" due to gambling debts and a failed relationship with a former girlfriend.
In his broadcast of the killing, Stephens can be heard asking Godwin to repeat the name of the former girlfriend.
"She's the reason that this is about to happen to you," he says.
While Stephens said he had murdered up to 15 people, Cleveland police said that there was no indication he had killed anyone else as of Tuesday morning, according to Fox 8 News.
Authorities are continuing to investigate the case.
"There's not a federal agency in the United States that is not involved in some way," Stephen D. Anthony, special agent in charge of the FBI in Cleveland, said.
April 18, 2017, 1:44 p.m. Eastern: This story has been updated.