Join 'Mic,' Bernie Sanders and DNC head Tom Perez for a roundtable with 6 Kentuckians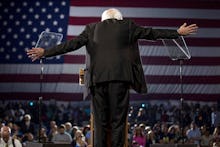 On Tuesday, Sen. Bernie Sanders (I-Vt.) and Democratic National Committee chairman Tom Perez will travel together to Louisville, Kentucky, as part of what's being billed as a "Democratic unity tour." While they're in the state, Sanders and Perez will sit down with six Kentuckians in a discussion moderated by Mic to tackle the future of democracy. 
You can tune into Mic's Facebook page at 9 p.m. Eastern on Tuesday to watch the stream of the roundtable.
If you have a question for Sanders or Perez, you can use Facebook messenger to send Mic a 10- to 15-second video. We might feature your question in the broadcast.