Ikea's best-kept secret? Its affordable, sustainable salmon.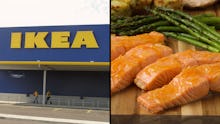 Salty, silky and rich, salmon is truly a versatile protein. Smoked salmon shines when placed upon a bagel with schmear or stirred into an omelet. Grilling, poaching or broiling salmon results in a delectable entree. Ah, this fish.
But eating sustainable salmon can burn a hole in your wallet. Responsibly farmed salmon or wild caught salmon often come with a hefty price tag — salmon at Whole Foods, for example, can cost up to $25 a pound. 
The good news: One national chain is a low-key secret, affordable salmon purveyor. Ikea, that Swedish furniture factory and veritable maze of a store, sells salmon that's sustainable both for the planet and your bank account. Three different smoked salmon packs are priced at $8 for a pack of 7 ounces, meaning they're all around $18 a pound. 
How Ikea became a leading seller of sustainable seafood
Beyond its Malm dressers, you may know Ikea for its Swedish meatballs, but the furniture store made headlines in 2015 for becoming one of the largest sellers of sustainable seafood. Ikea, which sells fish in 47 countries, only sources seafood that is certified by the Marine Stewardship Council and the Aquaculture Stewardship Council. 
"The ASC and MSC certifications confirm the responsible handling in the whole value chain for seafood served and sold at Ikea," Peter Ho, Ikea's head of food products, said in an email.  
All of the salmon Ikea sells comes from fish farms certified by the ASC. According to the ASC's standards, these farms must preserve water resources, prevent farmed fish from escaping the farms (as escaped fish can pose a threat to wild fish) and prioritize animal health by avoiding unnecessary chemicals. 
So, how does Ikea keep prices so low? "Affordability is part of [Ikea's] identity," Ho said, explaining that Ikea decided to sell ASC-certified salmon even though it has a higher purchase cost compared to non-certified salmon. "We are convinced that acting as a responsible company also contributes to a profitable business." he said. 
"The volume of product Ikea carries contributes to how we are able to keep products affordable for our customers." - Peter Ho, Ikea
The sheer amount of salmon Ikea sells helps them score better deals they can pass on to consumers, too. "Buying more can lead to better cost, and Ikea's model of affordable prices leads to selling more product," Ho said. "We can't speculate on our competitors, but the volume of product Ikea carries contributes to how we are able to keep products affordable for our customers." In the U.S., Ikea sells 120,000 pounds of salmon a year in the Swedish Food Market.
What exactly is a fish farm? 
Aquaculture is the official term for fish farming, a practice where fish are raised in tanks or other enclosures instead of caught wild from streams and oceans. People have been using aquaculture to raise fish since 2500 B.C., when the Chinese grew carp in rice paddies. 
Compared to other proteins like beef and pork, fish produced with aquaculture makes for a much more eco-friendly protein choice.  A quarter-pound of beef uses 6.7 pounds of feed, not to mention almost 53 gallons of water. Meanwhile, aquaculture produces twice as much fish protein as it uses, NOAA Fisheries noted.
Aquaculture tanks located on land and aquaculture net pens in the ocean have pros and cons. Amy Novogratz, managing partner of Aqua Spark, an investment fund dedicated to improving global food security through aquaculture, said in a phone interview that tanks might require lots of energy to remain at a controlled temperature, while net pens in the ocean risk farmed fish escaping and breeding with wild fish, which can negatively impact local ecosystems.
In particular, Novogratz noted, salmon farming can be resource-intensive because salmon are carnivorous and need to be fed other fish. "It affects the greater ecosystem in a big way," she said. 
The fishmeal and fish oil given to salmon and other farmed fish are made from "anchovies, herring, menhaden, capelin, anchovy, pilchard, sardines and mackerel," the National Oceanic and Atmospheric Administration Fisheries website noted. 
Salmon farming practices have been getting better in Norway, where salmon farming originated. But lots of U.S. salmon comes from Chile, and according to Novogratz, "the Chilean seafarers aren't as responsible."
"The certifiers of aquaculture, they've done a great job in getting people to pay attention but they haven't figured out the feed piece," Novogratz said, explaining that the crux of sustainability for agriculture and aquaculture lies in the sustainability of animal feed. 
Still, Novogratz considers Ikea's foray into responsibly raised fish a boon because it brings more attention to responsible aquaculture. 
"Ikea is a huge place. ... The fact that Ikea is bringing attention to fish and that there is such a thing as certification, where fish is produced and where it comes from, is a good thing," she said. "At this point, people need to start paying attention that fish is produced in different ways." 
Correction: May 2, 2017