'Prison Break' Season 5, Episode 3 Recap: The conspiracy takes shape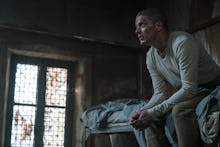 Season five, episode three of Prison Break dishes out a lot of the answers to questions we had after watching episode one. 
For example, it turns out that Michael was the one who financed Bagwell's robo-hand, via what must have been some unfathomably complicated accounting. The mysterious entity pulling the strings in place of The Company — which organized the hit on Sarah and presumably landed Michael in prison again via blackmail or some other means — has a name: Poseidon. 
We also learn how Michael has been communicating with the outside world from prison. The facility is fortuitously within paper-airplane throwing distance of a group of playing children who carry messages for him in exchange for gum. At the start of the episode, "Bubble-gum man" gets one of the kids to pass on a note to Lincoln and C-Note, and several bombshells are revealed.
The note, we soon find out, is actually a map designed in Arabic calligraphy, not unlike the map of Fox River Michael tattooed onto himself in the show's first season. The map leads to a hideout where Michael planned his breakout of Ogiya prison, which stretches back four years. 
A lot of the background in the episode actually comes from the two assassins who somewhat implausibly failed to kill Sarah and Lincoln in the season five premiere. "Why are we pulling our punches with this girl," the woman assassin asks her partner, also unnamed. "It's all chess it's a performance," is his answer. 
Through them, we also learn that Michael has been the one passing messages to Sarah through their son and they, by extension, are using Sarah to try and track Michael down. Crucially, they also seem to be answering to the same people who enlisted Michael to help break Abu Ramal out of prison: "Any chance Poseidon will just let us kill her?" the assassin asks.
The million-dollar question then is: Who is Poseidon? We do get a few clues. 
At one point in episode three, Michael's cosmopolitan cellmates — including a South Korean drug kingpin who's obsessed with Freddy Mercury — confront him about colluding with Ramal. Michael defends himself by saying he's being forced to help Ramal by "people in my government" who want Ramal out to suit "their own foreign policy goals."
That would presumably point back to Kellerman, who seems mired in something fishy with his new job at the State Department. In the episode, Sarah's phone gets hacked using her own fingerprint, and Sarah has a flashback to the water glass Kellerman offered her and she regrettably accepted. It's not implausible that, somewhere after the conclusion of season four, the authorities in United States offered Michael some sort of deal using his jail-breaking talents to serve American ends abroad. 
Unfortunately, what Prison Break giveth, Prison Break quickly taketh away. Though C-Note and Lincoln are able to orchestrate the needed blackout that will give Michael and his friends the cover they need to break out of Ogiya, they are apprehended. In the episode's final moments, Michael records a video for Sarah: "I always loved you," he says, "this whole lie, it was for you." He then begs Sarah to make sure he is buried under his real name. 
Of course, Michael's phone battery dies before he's able to get everything off his chest. Then again, knowing Michael, that was all probably part of some sort of plan. 
Mic has ongoing Prison Break coverage. Check out our main Prison Break hub here.