White supremacist sued for attacking protesters says he was just following Trump's orders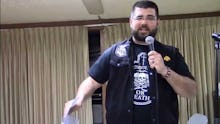 Matthew Heimbach, the white supremacist organizer currently facing a lawsuit for allegedly violently assaulting protesters including a black woman at a Louisville, Kentucky, Trump rally in March 2016, is claiming in court that he was only following Donald Trump's orders.
Heimbach has filed a counter-suit claiming he was listening to Trump's calls for the protesters to be ejected, saying he relied on the then-candidate's "reputation and expertise" and that Trump's campaign was negligent "in the exercise of their legal authority," according to the Courier-Journal.
In his legal filing, Heimbach said if he is found liable for any damages, "any liability must be shifted to one or both of them," Politico reported.
Henry Brousseau, Kashiya Nwanguma and Molly Shah, all three of whom were protesting Trump before they were violently set upon by the crowd and forcibly removed, are suing Heimbach, Trump and other defendants. The lawsuit alleges Trump incited a riot by demanding the crowd "get them out of here."
Federal Judge David J. Hale recently refused to throw the lawsuit out of court, writing it was "plausible" Trump intended the crowd to get violent. According to the Courier-Journal, Hale took particular issue with Trump's "particularly reckless" decision to cheer on Nwanguma's removal, given it was public knowledge white nationalists like Heimbach were in the crowd — though Hale also dismissed the idea Trump was vicariously liable for Heimbach and other defendants' actions.
Heimbach is affiliated with neo-Confederate and white supremacist groups like the Traditionalist Youth Network and League of the South, though he first sprung to public attention after organizing a "White Student Union" at Maryland's Towson University. As Vice reported, Heimbach and his lackeys primarily concerned themselves with stalking the campus in search of "black predators."
Trump maintains the regular violence which erupted at his campaign rallies such as one in San Jose, California, were the work of "thugs" and "illegals." His campaign opponent Democrat Hillary Clinton argued Trump "created an environment in which it seemed to be acceptable for someone running for president to be inciting violence, to be encouraging his supporters."
"It's hard for me to think about that day," Nwanguma told the Washington Post. "... It was a new side of humanity that I hadn't quite seen before. I know it looks like I'm smiling, but I was really in disbelief. I was like, 'What is going on and why is this happening? There's no way that people are acting like this.'"