Supreme Court blocks Arkansas execution in victory for death penalty opponents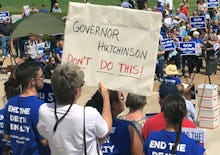 Late Monday night the Supreme Court refused to lift a stay on the execution of inmate Don Davis, one of the eight prisoners Arkansas Gov. Asa Hutchinson had scheduled for death in an 11-day period before the state's batch of midazolam, a lethal injection drug, expired.
By the time the court reached a decision Monday night, Davis had already received his last meal and the execution team was ready.
But the Supreme Court — which now includes Neil Gorsuch — left in place the stay of execution that the state court had imposed due to concerns about Davis' mental competency.
This is the third execution to be blocked of the eight scheduled in a time span that's unprecedented in the modern era, the Guardian reports, and sets the stage for more dramatic fights in the cases of those to be executed later this week. 
The decision was seen as a victory for Davis' lawyers, as well as the large number of death penalty opponents who have protested Hutchinson's plan. 
But Hutchinson said that the state, which has not conducted an execution since 2005, would continue to push to carry out its quick-fire executions.
"While this has been an exhausting day for all involved, tomorrow we will continue to fight back on last-minute appeals and efforts to block justice for the victims' families," Hutchinson said.