UK Prime Minister Theresa May calls for early election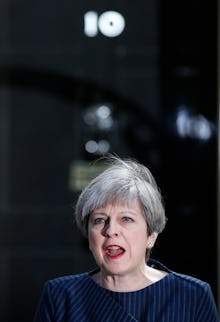 In a surprise reversal, United Kingdom Prime Minister Theresa May on Tuesday called for an early general election June 8 in an attempt to weaken the opposition to her government's Brexit plans. 
"Our opponents believe, because the government's majority is so small, that our resolve will weaken and that they can force us to change course. They are wrong," May said in remarks outside 10 Downing Street. "They underestimate our determination to get the job done and I am not prepared to let them endanger the security of millions of working people across the country."
May, who came to power over the summer after David Cameron resigned in the wake of Britain's vote to leave the European Union, said that consumer confidence, jobs and economic growth have continued to be strong since Brexit and called for unity in the U.K.
"At this moment of enormous national significance there should be unity here in Westminster, but instead there is division," May said. "The country is coming together, but Westminster is not."
The announcement to hold an election less than halfway into the government's five-year term comes a month after a spokesperson for May said they would not.
The Labour party welcomed May's announcement, saying that it would be an opportunity for the British people to "vote for a government that will put the interests of the majority first," according to the Guardian.
"In the last couple of weeks, Labour has set out policies that offer a clear and credible choice for the country," Labour leader John Corbyn said in a statement. "We look forward to showing how Labour will stand up for the people of Britain."
However, recent polls indicate that conservatives would soar to a landslide victory, the Guardian reports, suggesting May could garner a large majority and bolster her position in Brexit negotiations.
"Britain is leaving the European Union and there can be no turning back," May said. "And as we look to the future, the government has the right plan for negotiating our new relationship with Europe."