What to do if you're among the absurd number of Americans who still haven't filed taxes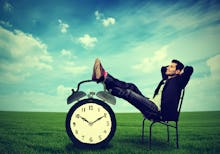 April 18 is Tax Day and if you're doing a last-minute scramble you're not alone: The IRS estimates that some 13 million Americans will request an extension on this year's return, and another 12 million will file during the week starting April 16 — aka within two days of the Tuesday deadline.
Among the procrastinating masses? Have no fear — you're fine as long as your return is post-marked today, and you could theoretically file electronically as late as 11:59 p.m., if you've really got an appetite for danger. (Luckily you've also got Mic's guide to saving money on taxes, even at the eleventh hour.)
Alas, the ease of e-filing taxes might actually be making the procrastination worse and worse each year. Before electronic filing became the norm, waiting too long to file your taxes involved dealing with a mob at the post office. Now all you have to worry about is whether your WiFi is working.
As of April 7, 2017, some 4 million fewer people had filed than at the same point in 2016, Bloomberg notes.
What to do if you miss the tax deadline
Luckily, if you do file your taxes late it's not too big of a deal, so long as you're one of the three quarters of filers who are owed money by the IRS.
If that's the case, just file as soon as you can. There is no penalty — since the IRS actually owes you money. To make your life easier, it's best to file before November to avoid having to mail in a paper return.
But if you owe Uncle Sam money, on the other hand, it's best to request an extension today from the IRS or through a software program like TurboTax.
You still need to estimate what you owe and send it — or deal with fines and penalties later — but you can put off the 1040 tax form until the fall.
Can't actually afford what you owe the government? If your bill is higher than your bank balance, you can apply for a payment agreement and work out a manageable plan, which can stretch out to up to six years. But that situation is a reminder of why everyone needs an emergency fund. Maybe consider opening one before Tax Day 2018 rolls around: It'll be sooner than you expect.
Sign up for The Payoff — your weekly crash course on how to live your best financial life. Additionally, for all your burning money questions, check out Mic's credit, savings, career, investing and health care hubs for more information — that pays off.