Trump to sign executive order curbing H-1B visa program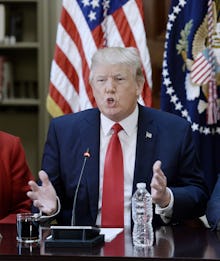 President Donald Trump on Tuesday is expected to sign a so-called "Buy American, Hire American" executive order that will require government agencies to purchase more from American companies and curb the H-1B visa program.
The visa program — which, during the campaign, Trump promised to kill and said was "very, very bad for workers" — brings 85,000 immigrants to the U.S. per year, according to the New York Times. Most of those admitted work in the tech industry, which has argued H-1B is an important component to its recruitment. 
It isn't yet clear what kind of restrictions the order will impose on H-1B; White House officials did not provide the text of the order Monday night. 
The order is not expected to have much impact on the H-2B seasonal worker visa that Trump uses to staff his Mar-a-Lago resort, according to USA Today.
Tech leaders like Mark Zuckerberg and Bill Gates have argued in favor of H-1B on the grounds that the program helps fill a talent shortage in the industry. Critics of H-1B, though, say that companies use the program to pay foreign workers below market rate — and, Trump has argued, at the expense of American workers. 
But the executive order could lead tech companies to move outside the U.S., according to Robert D. Atkinson, an industry-sponsored researcher.
"The effect would end up being exactly the opposite of what Trump wants," Atkinson, president of the Information Technology and Innovation Foundation, told the Times in January.
As for the "Buy American" portion of the order, federal agencies will be required to give American companies priority in decisions about purchasing, according to the Times.
Trump is expected to sign the order during a visit to the headquarters of Snap-On Tools in Kenosha, Wisconsin.