Lady Gaga opens up about mental health struggles in powerful video with Prince William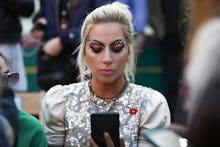 Prince William and Lady Gaga have united for the Heads Together campaign.
The campaign, started by the duke and duchess of Cambridge and Prince Harry, is an attempt to help raise awareness for mental illness. Lady Gaga joins Prince William in a FaceTime call for the latest ad for the campaign.
In the video, Lady Gaga makes herself a hot drink before the two have an honest conversation about the stigma around mental health.  "There's a lot of shame attached to mental illness. You feel like something is wrong with you," Gaga says. 
"The Cure" singer's video is the latest entry in the campaign's #OKToSay series. Prince William and Lady Gaga teamed up after the duke of Cambridge read the singer's open letter she wrote in December 2016 about her struggles with post-traumatic stress disorder. 
"I feel like we are not hiding anymore, we're starting to talk," she says in the video. "Even though it was hard, it was the best thing that could come out of my mental illness, was to share it with other people."  
By the end of the four-minute clip, Prince William says the two should meet when she's in the U.K. next and talk about what else they can do. 
"It's okay to have this conversation, it's really important to have this conversation," Prince William says. "You won't be judged and it's so important to break open that fear."
Mic has ongoing Lady Gaga coverage. Please follow our main Lady Gaga hub here.