British noble Sir Benjamin Slade seeks woman to join him in castle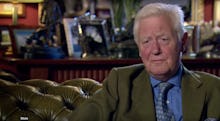 Random poll: Would you live with a creepy, crotchety member of the landed gentry if your accommodations were an actual castle? 
Baronet Sir Benjamin Slade, a minor British noble possessed of impressive homes and known as "the aristocracy's most colorful singleton" is currently seeking a roommate, according to the Daily Mail. He has some very particular qualifications, a handful of quirky personal habits and — full disclosure — some very sexist beliefs.
Having split with his former fiancée — who, at 50, was "too old to have children" — Slade, 70, is now looking for someone younger. The ideal lady is not "past her sell-by date," has not "been over the guns a few times," can birth him an heir and won't leave him for the handyman, like one former girlfriend did.
"They have to be fit," Slade told the Daily Mail. "I'm like a feudal prince when it comes to throwing parties." 
Applicants should also be down with his bizarre diet — which consists mostly of "sweet potato, sunflower seeds and horny goat weed" — and perfectly fine with waking up to a rude old man dangling upside down from his back stretcher every morning. That's how Slade keeps himself looking young, apparently.
Interested parties are advised to move quickly, since Slade is "interviewing hard" and has already received "a few proposals." 
Of course, this may have more to do with the fact he owns two castles than it does his sparkling personality. Slade lords over both Maunsel House — a hulking, ivied Tudor that hosted Chaucer while he wrote The Canterbury Tales — and Woodlands Castle in Somerset, a somewhat less-impressive property that mostly hosts weddings. Maybe even yours?