Video shows that with one hand and three chords, you, too, can write a Chainsmokers hit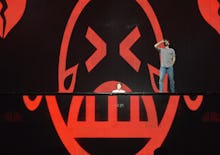 When you're the Chainsmokers and you're making millions off what are basically nursery rhymes done up with dance beats and edgy synths, this kind of ridicule comes with the territory. 
A YouTube video from John Fassold, a music-loving student at Arizona State University, recently went viral for making a complete mockery out the Chainsmokers' songwriting process. It all starts with three descending major chords, a head full of aimlessly nostalgic thoughts and a couple of random nouns.
Fassold demonstrated how a wealth of Chainsmokers songs rely on three major chords, climbing up and down throughout the song. For the chorus, they'll throw in a melody line hitting the highest note in each chord and they're set. Pick a lyrical theme and make chart history:
You want to find lyrics that talk about how hard it is being white and in love. My theme is gonna be champagne. You want to make it sound like you're edgy but not edgy ... 'We drank champagne when we were young / I know that you weren't the one.'
In large part, the formula checks out. "Closer" is a near perfect example, as is "Something Just Like This" featuring Coldplay. "Paris" is, too.
This is how pop works, though. Every time, it's a new simple trend. This kind of video has been made before — for the pop songs of 2014, for example, which relied on hip-hop beats, wonky horn samples and simple one or two-word hooks. Pop of all varieties thrives on familiarity. Leaning on common structures and tropes allows new pop songs to make an immediate emotional impact, by building off the feelings you have for similar songs you already love.
When you have labels pouring millions into tours, album promotion and studio time, like what the Chainsmokers enjoy, it's safer if the songs don't sound radically different from music that's already proven popular — hence these tight and lovely formulas. It makes for a hilarious dragging opportunity, if nothing else, even if everyone on this side of the stage is still broke.
Mic has ongoing music coverage. Follow our main music hub here.