Nintendo Switch Mario Kart 8 Deluxe Bundle: GameStop combo packs console, 'Zelda' and more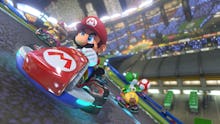 Buying a Nintendo Switch, even during pre-orders, has been very difficult. Sporadic restocks and GameStop bundle-only options have made the Switch a pain to buy, but options to purchase persist. It was Russia that brought us the first, albeit fake-looking, Nintendo Switch Mario Kart 8 Deluxe bundle. 
While there's no word that North America will get the same treatment, bundle-king GameStop is offering their own. 
Nintendo Switch Mario Kart 8 Deluxe Bundle: Zelda and micro SD card included, but for how much?
GameStop's Mario Kart 8 bundle continues the retailer's tradition of packaging all of their Nintendo Switch stock with games. The $499.99 GameStop bundle will net you a console with neon-colored Joy-Con, physical copies of Legend of Zelda: Breath of the Wild and Mario Kart 8 Deluxe, a digital Breath of the Wild expansion pass and a 128GB micro SD card. The bundle is available to buy right now from here, but will be released on May 5.
Until Nintendo offers up their own official Mario Kart bundle, North American buyers may have to default to GameStop if they want the game packaged in with the console. 
At $500, this bundle isn't exactly saving you any money as much as it is just getting you stuff that you could easily buy separately. But if the extra storage and two of Nintendo's best first-party games are something you want anyway, this could be the bundle for you. 
Let's just hope Nintendo starts pumping out Switch units so customers can choose between buying the console on its own or spending much more money.
Check out more Nintendo Switch news and coverage
Looking for more Nintendo Switch news? Learn why the Switch cartridges taste so bad and how blind gamers are joining in on the Switch fun. Check out our comparison photos sizing up the Switch to the Wii U GamePad (part one and part two), find out how to make use of ethernet without the dock and the best way to get alerts when new stock arrives.