Trump may not know who runs North Korea, may think all three leaders are the same guy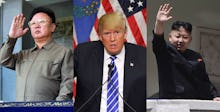 Without looking, can you say the name of the supreme leader of North Korea? If you said anything with the name "Kim" in it, you've come way closer to guessing correctly than Donald Trump.
During a Fox News interview, the president didn't appear to know who the name of the leader of North Korea. He not only referred to the leader of North Korea as "this gentleman" multiple times during the interview, but also implied that Kim is the same person as his father and possibly even his own grandfather.
"I hope there's going to be peace, but you know, they've been talking with this gentleman for a long time," Trump said. "You read Clinton's book, he said, 'Oh, we made such a great peace deal,' and it was a joke. You look at different things over the years with President Obama." 
But the peace deal brokered by Clinton wasn't with Kim Jong-Un, the current leader of North Korea who would have been 10 years old at the time. The administration first began negotiations with his grandfather, Kim Il-Sung in 1993, before completing them with his father, Kim Jong-Il in 1994.
The tensions between the U.S. and North Korea are spiking as North Korea has been posturing toward an attack, celebrating with military parades and conducting failed missile tests. When Trump was asked by Fox News' Ainsley Earhardt about his plans to address the mounting conflict, he neglected to give specifics.
"Everybody's been outplayed, they've all been outplayed by this gentleman and we'll see what happens," Trump said. "But I just don't telegraph my moves."
At this point, if the president of the United States could just telegraph that he knows who the leader of North Korea is, that would be a good start.