Viral photo of Jewish couple and Muslim mother shows the beauty of diversity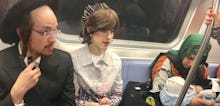 You can find America on New York City's F train.
Apparently, that's where Jackie Summers found it on Easter Sunday, the New York Daily News reported. Summers — a Taoist — shared an uplifting photo he snapped on his weekend commute: a Hasidic Jewish couple shares their subway seat with a Muslim mother nursing her baby. The picture, originally posted on Facebook, has since gone viral with over 46,000 likes and 34,000 shares.
"A Taoist (me) gives up his seat so a Hasidic couple could sit together. They scoot over so a Muslim mother could sit and nurse her baby, on Easter Sunday," Summers wrote as his caption. 
He added: "This is my America: people letting people be people."
Since the start of the 2016 presidential elections, anti-Muslim hate crimes have been on the rise, and several Jewish cemeteries and synagogues were targeted for anti-semitic vandalism and bomb threats. 
But Summers' photo serves as a heartwarming reminder of what truly makes America great, powerful and beautiful: Our strength in diversity and unity.