'Persona 5' DLC Schedule Update: Price for new personas, cosmetics, music and more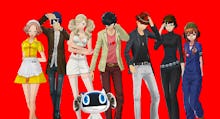 The Persona series is known for it's iconic imagery and style. Each game has its own unique costumes for its main cast of characters. That's why Atlus — Persona's developers — are releasing the notable cosmetics from the previous games as DLC for Persona 5.
Some of the items will be released soon, and some are already available for purchase and download in the PlayStation Store. The Persona 5 DLC ranges from $1.99 for personas to $6.99 for the costume bundles. If you're looking for a specific item, let us help you find it.
Persona 5 DLC schedule: Released DLC
As of April 18, the costumes and background music from Persona 2, Persona 3 and Persona 4 are available for download, as well as costumes from Persona's parent series, Shin Megami Tensei.
Personas from previous games are also available right now including: Thanatos, Izanagi, Magatsu Izanagi, Kaguya and Orpheus.
Persona 5 DLC schedule: Upcoming DLC
At this point, Persona 5 has DLC planned until mid-July, with plenty of awesome customization on the horizon.
Some of the future DLC will have new cosmetics, including costumes from Persona 4: Dancing All Night, Persona 4 Arena Ultimax and Shin Megami Tensei IV. 
The upcoming persona downloads are: Ariadne, Asterius, Tsukiyomi and Messiah.
For a complete list of all the details, check out the comprehensive guide that Gematsu has put together.
More Persona 5 news, updates, tips and tricks
For more on the latest entry in the Persona series, check out the rest of what Mic has to offer. Here's a guide on how to capture Personas, and here's one on building relationships with the game's Confidant system. Here are some tips on beating the first boss and the second boss. Finally, here are the answers on some of the crossword puzzles.