NYC Sikh cab driver assaulted, passenger rips off his turban: "They're gonna kill me."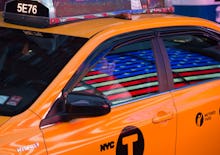 The New York Police Department is investigating a possible hate crime against a Sikh cab driver who was allegedly assaulted by passengers, the New York Daily News reports
On Sunday, Harkirat Singh, 25, was driving a woman and three men in their early 20s from near Madison Square Garden to the Bronx, when drunk passengers began to physically assault him and rip off his turban.
The incident began when Singh took them to their requested destination, but was then told it was the wrong location. The passengers then started shouting racial slurs and banging on the plastic window separating them from Singh.
"They're using bad words, also. They said, 'Ali Baba, f--k you,'" Singh told the New York Daily News.
Singh then pulled the cab over and told the belligerent passengers to pay their fare — $41.76 — and find another cab to take them to their final destination. At first they refused, but after threatening to call the police, the female passenger paid for the cab.
Then one of the male passengers got back inside the cab, according to Singh, and tried to smash the meter and then punched Singh in the arm. The passenger also tried to rip off Singh's turban — a sign of disrespect for Sikhs — and steal his phone.
"After that, he picked off my turban from my head," Singh said. "He wanted to snatch my phone also... It was too horrible."
Singh said he teared up out of fright and begged for the man to calm down and talk it out. 
"Why are you doing this, brother? We can sit. We can talk," Singh told the passenger, the Daily News reported. "At that time, I'm so afraid — they can do anything to me. They're gonna kill me."
Singh did not need to receive medical attention, but he did file a police report against the passengers.
"I'm so afraid," Singh said. "It's an insult on my religion, also. An insult of my faith. It's horrible."
In response to the attack, NYC Mayor Bill De Blasio extended a heartwarming message to Singh.