Anti-vaxxers "targeted" Minnesota's Somali community. Now they have a measles outbreak.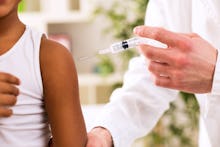 Minnesota's Hennepin County is in the midst of the state's largest measles outbreak since 2011. Nine cases have been reported since last week, and officials expect the number to rise.
So far, all of the cases are among unvaccinated children. They have something else in common too: The affected children are all part of Minneapolis and St. Paul's Somali-American community. According to a health department official, Minnesota's Somali immigrant community has been a particular target of the anti-vaccination movement, colloquially known as "anti-vaxxers."
"They're very much engaged with and targeting this community," Kris Ehresmann, infectious disease division director at the Minnesota Health Department, said in a phone call Wednesday. 
According to Ehresmann, anti-vaccine groups began to target the Somali community around 2008, amid concerns about autism among Somali-American children. Anti-vaccine groups started reaching out to the Somali community and showing up at community health meetings, she said, disseminating misinformation linking autism to the measles, mumps and rubella vaccine, or MMR.
Since then, the population has seen a "steady decline in MMR vaccine rates."
Anti-vaxxers and the Somali-American community
At least one high-profile figure in the anti-vaccine movement has made special trips just to speak to Somali immigrants. In 2011, Andrew Wakefield, a man who has been called the "father of the anti-vaccine movement," showed up in Minnesota in the midst of what was then the state's first major measles outbreak in years, the Star Tribune reported at the time. 
Ehresmann said that wasn't Wakefield's first trip to speak to Somali families in Minnesota — she believes he visited once before, in 2008, when anti-vaxxers were first arriving to spread misinformation.
Wakefield, the now-disgraced British doctor who published a widely shared and subsequently discredited paper implying a link between vaccines and autism, traveled to Minneapolis to hold a private forum for Somali immigrants. The meeting was described at the time as a "support group" for families of autistic children, the Star Tribune reported.
Wakefield's 1998 paper suggested autism was linked to the MMR vaccine. That research was later discredited when it was found that he had falsified data, and Wakefield was stripped of his medical license in the U.K. 
But the damage of his faulty science had already been done, and many have blamed Wakefield for falling vaccination rates and unfounded fears about vaccines in both the U.K. and the United States.
"If anybody ever had a huge, huge fingerprint, it was that Dr. Wakefield," Anab Gulaid, a founding member of the Somali Health Coalition of Minnesota who has worked on autism research and outreach within the Somali-American community, said in a phone call Wednesday. "He took this vulnerable situation, and created a narrative and just left it."
Gulaid said she often encounters fears surrounding autism and vaccines among a broad spectrum of the population. "Whether they have young children, old children, educated, not educated ... the message had traveled very far," she said.
"We're an oral society. This message, of the interconnectedness of vaccines and autism, got out. and it got out very fast."
The 2011 Minnesota measles outbreak
The 2011 Minnesota measles outbreak sickened 26, including many in the Somali community. It was eventually traced to an unvaccinated Somali child, according to research co-authored by Dr. Diane Madlon-Kay, a practicing physician who has studied the low vaccine rates among Minnesota's Somali community.
Even now there continues to be "this big gap between our Somali kids and our non-Somali kids regarding vaccination rates, specifically regarding the MMR vaccine," Madlon-Kay said in a phone call on Wednesday. A Minnesota physician with 30 years of experience, Madlon-Kay practices at a family medicine clinic where half the patient base is Somali and Somali-American.
Other than Wakefield's visits to speak to Somali families, Madlon-Kay said she didn't know of other instances in which anti-vaxxers have specifically targeted the Somali immigrant community — but she said there's "no question" the "MMR autism issue" is driving low vaccination rates. 
She and other doctors who serve that population have had little luck dispelling myths about autism and vaccines that travel quickly though the community via word-of-mouth, she said.
"We don't seem to be making any headway with that at all," Madlon-Kay said.
Despite countless studies indicating there's no connection between vaccines and autism, Madlon-Kay doesn't have much hope that science will change the minds of scared parents within the Somali community anytime soon. 
"Until there's really a good explanation for the cause of autism, it's just going to be really hard to change people's feeling about this," Madlon-Kay said.
And if the vaccine rate remains low, officials say, people remain at risk for more dangerous measles outbreaks.