Is '2 Broke Girls' Canceled? Here's what we know after the season 6 finale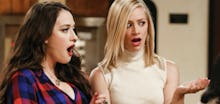 2 Broke Girls, the long-running CBS comedy about two waitresses who strike up an unlikely friendship, may be on its last legs. While the network has yet to announce whether or not it's putting the show out to pasture, there have been inklings that season six may in fact be its swan song. 
According to TV Line, those in the know are saying there's a 50/50 chance the show will not be returning in the fall. Co-showrunner and executive producer Michelle Nader, however, has different thoughts.
"This is not the end for these girls," Nader told TV Line. "We're not finished and we don't want to be finished and I don't think the audience is finished. Obviously there's no guarantee that we will be back, but we did not write the episode as a series finale."
The season (hopefully not series) finale aired on Monday, and definitely felt like an ending of sorts. The big news, of course, was Max, played by Kat Dennings, got engaged to Randy, played by Ed Quinn. 
The couple had been Ross and Rachel-ing it for a while, so this was a nice pay-off if the show is in fact ending. Nader, however, insists their coupling sets up a new beginning for the show rather than an end. 
"With the girls [becoming] successful and finding love, it's opened up a whole new world for us," Nader declared.
Only time will tell which way the pendulum will swing for 2 Broke Girls. It would, however, be nice change to see Max lucky in love.
Mic has ongoing CBS coverage. Check out our CBS hub here.