Thanks to Baby Groot, 'Guardians of the Galaxy Vol. 2' is getting positive early reviews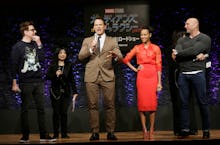 Kicking off the summer movie season is Guardians of the Galaxy Vol. 2, and judging by some early tweets, it's good. 
The James Gunn-directed follow-up to the Marvel blockbuster hits theaters Friday, May 5. The sequel, which brings the whole gang back together, screened for some critics on Monday — and they were impressed.
Those critics are saying Guardians of the Galaxy Vol. 2 is not only a lot of fun and a visual spectacle, but also that it lives up to the first film:
For some, the screening delivered a surprising emotional impact they weren't expecting: 
Chris Pratt, Michael Rooker — who plays Yondu — and Dave Bautista are getting a lot of love for their standout performances:
And, of course, Baby Groot is certain to steal the moviegoers' hearts:
Returning for the sequel alongside Pratt, Bautista and Rooker are Bradley Cooper, Karen Gillen, Vin Diesel and Zoe Saldana. Kurt Russell also joins the gang as Ego. 
It's also been revealed the sequel has five — yes, five — post-credit scenes for fans. Gunn confirmed the news Tuesday on Twitter. Four of the scenes will play throughout the credits, and the fifth and final one will play at the end. 
You can see all five scenes for yourself when Guardians of the Galaxy Vol. 2 is released in theaters May 5. 
Mic has ongoing movie coverage. Please follow our main movies hub here.