Sexual assault survivors protest Bill O'Reilly outside Fox News headquarters in NYC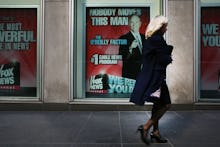 Protesters gathered Tuesday outside Fox News' headquarters in New York City to demand the company oust Bill O'Reilly, the conservative mouthpiece who's been accused of sexually harassing multiple women.
UltraViolet, the feminist grassroots group that organized the protest, also delivered a petition with 140,000 signatures calling for O'Reilly's remaining advertisers to "stop funding sexual harassment." 
"Fox News needs to prove to the public — and its advertisers — that the era of covering up sexual assault is over," UltraViolet co-founder Shaunna Thomas said in a press release. "That means firing Bill O'Reilly immediately and conducting a comprehensive and independent investigation into sexual abuse at the network — firing anyone involved in, or complicit in covering up, those crimes."
Demos Vice President of Policy and Strategic Partnerships Jodeen Olguin-Taylor was among the sexual assault survivors who shared her story with the crowd, recounting being harassed and assaulted at jobs in her 20s and 30s.
Despite the physical and emotional pain she endured from her assailants, Olguin-Taylor said the worst pain came when she discovered that the structures of power meant to help her didn't care about her trauma.
"The deepest scars are the burns from the institutions, the leaders, the people whom I asked for help — and who had the power to make it stop — but who did nothing," she said Tuesday. "Fox News has done worse than nothing."
Olguin-Taylor continued, "[Fox News'] actions continue to tell me, continue to tell all women girls that being assaulted, being intimidated, being harassed is OK. It's told us our safety does not matter as much as money, as much as power, as much as just the very simple desires of men."
UltraViolet isn't pulling any punches when it comes to getting its message across. The organization also plastered posters around the network's Midtown headquarters that read, "Have you also been sexually harassed by Bill?" and commissioned a plane to fly a banner across Manhattan reading, "Fox: #DropOReilly, the sexual predator."
The O'Reilly Factor host announced he was taking a two-week vacation on April 11, maintained that he had planned on taking the trip in October — long before the New York Times reported O'Reilly and Fox News had paid five accusers $13 million for their silence. 
But O'Reilly's absence isn't doing much to stop more allegations from emerging.
The Times alleged Friday that O'Reilly's behavior was a contributing factor in Megyn Kelly's departure from Fox News. According to the Times, Kelly was put off by O'Reilly's reaction to her revelations into former Fox News CEO Roger Ailes, who she accused in her memoir of repeated sexual harassment.
O'Reilly had been stubborn in his insistence that Fox News didn't suffer from any harassment problems and that if Kelly didn't like it there, she should leave.
"Let's whack the Fox News Channel," O'Reilly said on his show at the time. "I've had enough of it. It's a good place to work. Alright?"
Watch the protest live: 
April 18, 2017, 5:05 p.m.: This story has been updated.
Correction: April 19, 2017