'NBA 2K17' boost draft popularity is proof 2K must deliver a similar mode in 'NBA 2K18'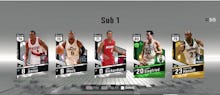 NBA 2K17's MyTeam is the only card-collecting mode without a draft option, and that needs to change. If you play MyTeam in NBA 2K17, chances are you're familiar with MTCentral. For those who aren't, it's a website packed with all the pertinent information about player cards, card levels and everything else relevant to the MyTeam mode.
MTCentral is also the home of the Boost Draft. A boost draft is essentially a simulated pack opening that you can repeatedly do on the site. The odds are said to mirror the ones in the actual game, so it can be pretty addictive to complete pull after pull on the website using your phone, tablet or PC.
Many gamers, including YouTubers like LostNUnbound, use the site's feature to create challenges for themselves in the real NBA 2K17.
One basic challenge is to complete 12 simulated pack openings and to acquire the best player from each pull on your actual MyTeam squad.
This isn't just a pastime or something to do when you're bored with other aspects of the game. This is an entertaining concept that exists within the card-collecting modes from other sports games like Madden and MLB The Show.
Here's a Madden example from KayKayEs and an MLB The Show video from TDBarrett:
For whatever reason, nothing of the sort is available in MyTeam. NBA 2K18 should have a feature in MyTeam that runs a draft very similar to what can be found on MTCentral, so players aren't forced to spend real VC, or money, to get the same experience.
It's obvious there's a thirst for the draft concept in MyTeam. Now it's up to 2K to deliver it to their fans.
More sports gaming news and updates
Are you a sports gamer? Check out more content from Mic, including tips for leveling up your NBA 2K17 MyPlayer, playing quarterback in Madden 17, our review of MLB The Show 17 and the classic Nintendo sports games we want to see on the Switch.