'American Gods' star Ian McShane is not a fan of the 'Fast and Furious' franchise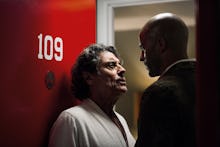 NEW YORK — Full disclosure: I'm a huge fan of the Fast and Furious franchise. The series — now, eight films total — continues to reinvent itself as a means to avoid becoming stale. Where the first movie was a blatant ripoff of Point Break with street cars, the latest film, The Fate of the Furious, pits the team against Charlize Theron, a Russian submarine and the prospect of World War III. It's not highbrow cinema, but it's damn entertaining, and the latest box office records indicate fans aren't tired of Vin Diesel, the family monologues and Coronas just yet. 
However, don't count Ian McShane among the franchise's many fans. The actor, speaking at an American Gods press event on Monday, talked about the John Wick films (which he also stars in) and what they meant for Keanu Reeves' career revival. 
"I spoke to Keanu the other day," he said. "That was a real nice vindication, you know, Keanu's one of the nicest guys there is. And [John Wick] was kind of a nice vindication of that." 
What McShane also appreciated about the sequel, John Wick: Chapter 2, was that it didn't imbue the tiresome patterns that most franchise sequels tend to follow. This led to some — perhaps justified — shade directed at my beloved Fast and Furious franchise and its stars, Vin Diesel and Dwayne Johnson. 
"The second one, I think because it wasn't treated as a sequel, it was really a continuation of episode one," McShane explained. "It didn't go to a big backstory and explain all the characters again, which too many sequels do, you know? I mean who is interested in the Fate of the fucking Furious, you know? Who's interested in a fight between ... imagine a fight between Vin and Dwayne, the Rock and a hard place." 
(For the record, Diesel and Johnson do go head-to-head in Fast Five, though as Vulture explained, none of the main characters ever lose a fight in the Fast and Furious films, so naturally was a stalemate. However, that was before the two actors were speculated to have started a longstanding feud, which honestly deserves its own season of television on FX.) 
McShane brings up a good point, and the Fast and Furious franchise may very well overstay its welcome one day. But with the prospect of Dom and the crew heading to space in the near future, I will keep throwing them my money. 
As for a potential third John Wick film? McShane's American Gods co-star Ricky Whittle is already gearing up for an appearance. "I can't wait to be in John Wick 3," Whittle tells McShane. "I can't wait for you to speak to those people, 'cause we're enjoying working together so much." 
"Who are you?" McShane responded. "I've never seen you before in my life." 
American Gods premieres April 30 at 9 p.m. Eastern on Starz. 
Mic has ongoing TV coverage. Follow our main TV hub here.