This list of the smartest tech investors in the world is only 6% women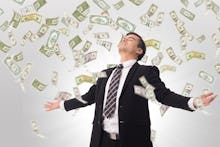 On Tuesday, Forbes released The Midas List — a catalog of the "world's smartest tech investors" in 2017. Individuals are chosen based on data collected by Forbes and TrueBridge Capital Partners from "publicly available sources as well as through many direct submissions from the firms themselves," list editor Alex Konrad noted on Forbes. The list, which totals at 100 people, is 6% women.
It's well-documented that the venture capital world has a gender disparity problem, and the list closely aligns with industry averages. In 2016, companies led by women were involved in only 4.94% of VC deals, and only 7% of venture capital partners are women, based on this analysis by TechCrunch. According to the Economist, "less than 40% of the top 100 venture-capital firms have a female partner charged with investing." And The Midas List further depicts the glaring gender divide in the industry — it even filters featured individuals by oldest, youngest and women (but not men).
"Forbes and TrueBridge are always eager to see more diversity on the Midas List, and we were happy to see more women appear on the list in 2017 than ever before," Konrad said in an emailed statement. "Unfortunately, change in this industry is slow. As a data-driven list, Midas reflects the degree to which the VC industry must continue to work to improve in that regard."
While the list was data-driven — there is a comprehensive breakdown of the methodology behind its compilation — said data doesn't reflect the immeasurable obstacles women in the venture capital industry face, like gender discrimination and unconscious bias.
It's important to shine a light on some of the most powerful people in tech. These venture capitalists shape the next generation of products and services and can play an influential role in whether the companies they invest in value diversity — VC firm Kapor Capital wrote an open letter to Uber investors and board members in an effort to hold leadership accountable for their actions amid accounts of sexism in the workplace. But it's a disservice to the industry to not highlight that the most powerful players in the tech industry are predominantly men. And perhaps next time leave off the tone-deaf "women" filter.