Who is Jon Ossoff? Here's why the Democratic Georgian has Trump and the GOP on edge.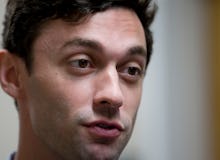 Tuesday's election to fill the open seat in Georgia's sixth congressional district is underway.
The seat was vacated when Rep. Tom Price, a Republican, joined the administration of President Donald Trump as secretary of health and human services.
The Republican Party may lose the seat in a stunning race that finds the Democratic Party looking at its first possible win in the district since the 1970s.
Democrats score big in their first major test of the Trump era if Ossoff passes 50%
Currently, Democrat Jon Ossoff is the only candidate put forward by his party in the special election, while the GOP has 11 candidates clamoring for votes.
If no candidate passes 50%, the top contenders from the two parties will face off in a one-on-one election in June. 
Such a battle would weaken Ossoff's chances, assuming that voters currently divided among the Republican candidates would coalesce around the single Republican candidate.  
The Republican Party is showing its concern by over-involving Trump in the election, even having him record a robocall to voters in the district.
Trump also misleadingly tweeted about Ossoff's position on illegal immigration, resulting in a swift denunciation by Politifact, a popular, nonpartisan fact-checking website.
Ossoff could embarrass Trump and foreshadow the 2018 midterm outcome
Jon Ossoff presents the Democrats with a unique advantage by never having held public office before but being knowledgable on the workings of the House.
He served as an aide to Democratic Rep. Hank Johnson and, when challenged on his national security bona fides by Republicans, announced through his campaign that he was granted top secret security clearance during his employment.
Though the GOP has tried to portray Ossoff as an inexperienced frat boy, he holds a Master's of Science from the London School of Economics and produced his thesis on U.S.-China trade relations.
As the GOP confronts concerns that Trump's dismal poll numbers will impact their ability to retain congressional control, the success or failure of Ossoff is seen as an early indicator of how the 2018 midterm elections will play out.
Even worse, the possible inability of the GOP to retain a seat held safely for decades against this challenge by a newcomer, all while the party retains control of the entire government, serves as a public vote of no confidence at an incredibly early point in Trump's young presidency.