Harry Styles insists he doesn't know if Taylor Swift's songs are about him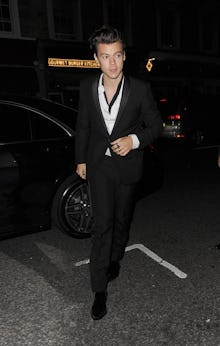 Harry Styles doesn't know if these songs are about him. 
In an interview with Rolling Stone released Tuesday, Styles opened up about his relationship with Taylor Swift. Interviewed by director Cameron Crowe, the two get on the subject about Styles' famous ex-girlfriend. 
At first, Styles avoids talking about Swift. "I gotta pee first. This might be a long one," he said jokingly when she comes up. "Actually, you can say, 'He went for a pee and never came back.'"
When he finally returns, Styles acknowledges their relationship and those infamous Central Park photos that confirmed they were dating from December 2012. For Styles, he says those photos are complicated. They were so young; he says it was a learning experience. 
"When I see photos from that day, I think: Relationships are hard, at any age," he said. "And adding in that you don't really understand exactly how it works when you're 18, trying to navigate all that stuff didn't make it easier. I mean, you're a little bit awkward to begin with."
It wasn't as simple of a date as he had wanted it to be. "It was a learning experience, for sure. But at the heart of it — I just wanted it to be a normal date," he said.
Styles is aware that two of Swift's songs from the album 1989 are allegedly about their relationship. "Out of the Woods" and "Style" are rumored to be about their short-lived romance, but he isn't sure if they're really about him. "I mean, I don't know if they're about me or not ..." he said.
Styles may not know if Swift used their relationship as inspiration for a few songs, but if even she did, he wasn't mad about it. He even credits her songwriting skills. 
"The issue is, she's so good, they're bloody everywhere," he said. The two haven't had much communication since their fling, but said he's fine with it. "She doesn't need me to tell her they're great. They're great songs. ... It's the most amazing unspoken dialogue ever," Styles said.
Crowe ends the Swift portion of the interview by asking Styles if he has any words for her now and also asking about how he looks back at their time together. For him, using their relationship for song material is more of a celebration of whatever happened between them. 
"Meeting someone new, sharing those experiences, it's the best shit ever. So thank you," Styles said. 
Mic has ongoing music coverage. Please follow our main music hub here.