Adidas slammed for poorly worded "You survived the Boston Marathon" email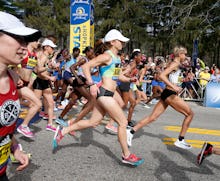 First there was Pepsi. Then there was United. Now there's Adidas, facing a PR crisis of its own. 
That's because on Tuesday, people who ran the Boston Marathon were sent a very, well, disturbing email from Adidas. The subject line? "Congrats, you survived the Boston Marathon," with the body of the email advertising some of the brand's most popular running attire. 
The email immediately received traction on Twitter, with many quick to call out the brand's misstep.
This could of course be taken two ways. One way is, "Congrats on running that marathon!" The other way is that by using the word "surviving," the brand is making an ill-conceived joke about the bombings near the finish line of the marathon back in 2013, which killed three people. Either way, poor choice of words.
At 4 p.m. EST, Adidas finally apologized for the gaffe, posting a statement on Twitter. 
"We are incredibly sorry," the statement read. "Clearly, there was no thought given to the insensitive email subject line we sent Tuesday. We deeply apologize for our mistake. The Boston Marathon is one of the most inspirational sporting events in the world. Every year we're reminded of the hope and resiliency of the running community at this event." 
Mic has reached out to Adidas for further comment.
April 18, 2017, 4:18 p.m.: This post has been updated with Adidas' apology.