These Muslim travelers had their Global Entry cards revoked. Now they're suing the DHS.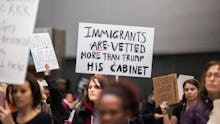 Muslim travelers are suing the Department of Homeland Security for refusing to release records related to their Global Entry applications.
The American-Arab Anti-Discrimination Committee filed a Freedom of Information Act lawsuit against DHS on Tuesday to see if there's an internal policy within the agency to revoke Global Entry status for Muslim and Arab travelers. Dozens of individuals — all who have Muslim names or are of Arab origin — have reported problems with their global entry status, Abed Ayoub, ADC's legal director, said in a phone interview.
"Without the information [requested from the FOIA], it's difficult to gauge what happened, how many people are affected and if there's a policy in place [in DHS] for Arabs and Muslim-Americans," Ayoub said.
In the wake of Trump's travel ban, Mic first reported that U.S. Customs and Border Protection revoked Global Entry cards of green card holders and American citizens. The Global Entry program falls under CBP's Trust Traveler Programs, which is under the jurisdiction of DHS. Travelers in the Global Entry program go through extensive screenings and background checks to have shorter wait times through airport security checkpoints when returning to the United States from travels abroad.
The ADC's complaint, obtained by Mic, requests the names of those affected, the reason for every revocation, suspension and termination of their Global Entry status, and all related policies and communications addressed or sent within the agency.
The lawsuit would help the ADC understand if the revocations are based on a policy targeting Muslim and Arab travelers. If that's the case, the FOIA records would enable the ADC to release the information to the public and proceed on reversing the policy. But as of now, they're being kept in the dark.
"We need to know if [DHS] is targeting a community, or if their policies are singling out the Muslim community," Ayoub said. "We need to know why these policies are in place and what we can do to get rid of these policies. Given the atmosphere and the implementation of the Muslim ban and other actions taken by this administration, we need to see what other actions the government is taking."
Immigration attorneys Greg Siskind and Andrew Free are working with the ADC to file the lawsuit. Siskind said in a phone interview that since filing their initial FOIA request in March, they haven't heard of anyone having their Global Entry status revoked except for suspicion that Gold Star father Khizr Khan may have been implicated. 
Siskind added that two of his clients did have their Global Entry status reinstated. One client met with the CBP's ombudsman's office and had his status reinstated several days later. The other client's status was reinstated weeks after making a complaint at a CBP office at an airport. Siskind also said one individual had their eligibility revoked, but was still able to go through their Global Entry check line without issue.
"There's so many cases with CBP that made me question [their competency]," Siskind said. "On one hand, there's people with bad motives in the agency, and in the other, I think there's incompetency within the agency — I think the two are intertwined. But with this case, I think there's a motive that's involved."
The Trump administration and its surrogates have defended their travel ban, crackdowns on refugee admission and Muslim immigration as ways to protect the United States from foreign enemies. But Siskind has an issue with the underlying assumption that being Muslim is a threat.
"There's no indication that any of these people who had their status revoked are less safe than others — unless you think having their name as 'Mohammad' makes you less safe," Siskind said. "These are doctors, bankers and engineers. [National security] is a nonsense excuse to basically profile whoever you want."
A DHS spokesman said it does not comment on pending litigation.
April 19, 2017, 2:47 p.m.: This story has been updated.