'Mario Kart 8 Deluxe' Differences: Nintendo Switch hands-on preview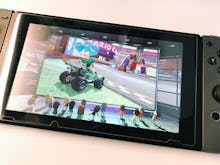 The Mario Kart 8 Deluxe Nintendo Switch release date is steadily approaching. Bundles including the game and Switch are available, even though Mario Kart 8 Deluxe's debut doesn't happen until April 28, but you're still able to indulge in a video showcasing what characters you can use and gameplay you can expect. We went hands-on to see some of the differences in the Nintendo Switch remake of Mario Kart 8, including the new two-item mechanic, balloon battle mode and more. 
Check out our initial impressions of Mario Kart 8 Deluxe below and check back soon for our full impressions of the game. 
'Mario Kart 8 Deluxe' Differences: Racing hands-on preview
Racing is largely the same in Mario Kart 8 Deluxe. One of the biggest differences has to do with items: you can now hold two at once instead of just one. Much like Double Dash on the GameCube, Mario Kart 8 Deluxe allows you to keep multiple offensive and defensive options.
'Mario Kart 8 Deluxe' Differences: Battle mode hands-on preview
Nintendo has brought back Mario Kart's Battle Mode, previously found in the original SNES and Game Boy Advance games. Get rid of balloons to amass as many points as possible. Boosting through an enemy will take one of their balloons and add it to your count. Just make sure not to lose all your balloons.
Stay tuned for our full Mario Kart 8 Deluxe impressions.
Check out more Nintendo Switch news and coverage
Want more Mario Kart news? Check out the bundle you can buy from GameStop to get the Switch and the game. Looking for more Nintendo Switch news? Learn why the Switch cartridges taste so bad and how blind gamers are joining in on the Switch fun. Check out our comparison photos sizing up the Switch to the Wii U GamePad (part one and part two), find out how to make use of ethernet without the dock and the best way to get alerts when new stock arrives.