Tom Perez says Jon Ossoff's campaign shows the power of "tremendous grassroots energy"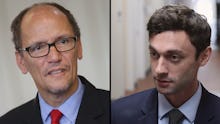 Democratic National Committee Chairman Tom Perez is optimistic about Democrat Jon Ossoff's potential in Georgia's 6th District on Tuesday, saying the energy around Ossoff's candidacy shows the power of grassroots mobilization.
"Republicans have held this seat in Georgia for 37 years," Perez said in a sit-down interview in Frankfort, Kentucky, where he's hosting a Democratic unity event with Sen. Bernie Sanders. "We are in the fray because of this tremendous grassroots energy."
Ossoff is seeking to win an open seat in suburban Atlanta, left vacant by Rep. Tom Price's ascension to the Department of Health and Human Services. The 30-year-old is one of 18 candidates from both sides of the aisle running on the same ballot. 
If he can garner more than 50% of the vote, he'll win outright. If not, Ossoff will advance to a June 20 runoff election with 1 of the 11 Republicans in Tuesday's election.
Sanders, for his part, said he expects there to be a runoff.
"If there are 18 candidates, it will end up in a runoff," Sanders said of the election, where polls close at 7 p.m. Eastern. 
However, he noted that there are signs of a growing backlash against President Donald Trump and the Republican Party, who he says want to "give more tax breaks to the very, very wealthy and cut back on programs that are necessary."
Sanders pointed to the results in last week's congressional special election in Kansas' 4th District, where a little-known Democrat came within seven points of beating a Republican in a heavily Republican district.
"All over this country you are seeing people stand up to the values of Trump, the values of extremism," Sanders said.
Perez echoed those sentiments. 
"Who knows what will happen in Georgia," Perez said. "But we have a fighting chance, which is remarkable."
"Underdogs win," he added. "We'll see what happens."