How to stop robocalls on your Android and iPhone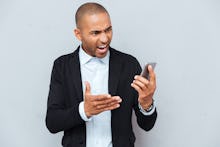 Robocalls are on the rise. The Federal Communications Commission estimates roughly 2.4 billion robocalls are made each month, and 2.5 billion calls were made in March 2017 alone. According to USA Today, this means each person receives more than seven calls a month from these pesky telemarketers. Fortunately, you don't have to settle for a life filled with robocalls. There are active steps you can take to decrease — if not eliminate — these scam phone calls.
Remove your phone number from social media
Check all your privacy settings on all social media platforms. Do you have your number shared? If so, are there privacy settings in place that prevent your number from visible to the public?
Google your phone number
You'll want to figure out where people are getting your phone number. Whether it's a cell number or a landline, perform a quick search on Google to see what shows up. In some cases, the number is there next to a name and in other cases, it's not. 
Join the "Do Not Call" registry.
The Better Business Bureau recommends joining the Do Not Call registry. This is not guaranteed to work, but once you're on the list, it is illegal for telemarketers to contact you. "If you are listed on the national Do Not Call registry and you still receive a recorded sales message, you can be sure the company is breaking the law and trying to scam you," the BBB said in a release.
Block, block, block
Ask your phone company if it charges for blocking a number. If not, hand them a list of numbers to block. If they charge and you're tempted to pay a fee in exchange for a robo-free life, know that telemarketers change their Caller ID information, so it does not guarantee anything.
For your cellular device, consider blocking numbers. iPhone users can go to the "Recents" section in the "Phone" app and click the blue "i" icon next to the number. Scroll down to the bottom and select "Block this caller." Android devices vary, but those on the Android 6.0 software can long-press a number and select "block number" from the menu that pops up, USA Today reported. Users can also go to "Call blocking" in Settings and select "Add number" to manually type in the number they want to block.
Log and report numbers that call you
You've done all the aforementioned things and you're still getting calls. Now what? When possible, save the number so you can file a complaint with the FTC on their website (or by calling 1-888-382-1222) and report it to the BBB Scam Tracker. The FTC can impose fines on these telemarketers.
Be smart
The BBB recommends never giving out financial information and not pressing any numbers to speak to an operator or to supposedly get removed from the list. The newest scam is one where the caller asks "Can you hear me?" in an effort to get you to say "yes" so it can record the voice.