NCAA to host tournament games in North Carolina again after HB2 "repeal"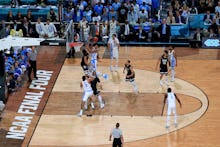 The NCAA announced Tuesday that it will once again host tournament games in North Carolina after the state's "repeal" of House Bill 2, drawing the ire of members of the state's LGBTQ community and their allies.
Charlotte will host first and second round tournament games in 2018, and Greensboro and Raleigh will host first round games in 2020 and 2021, respectively.
In 2016, the NCAA pulled championships from the state in protest of HB2, the anti-trans bathroom bill. In March, Democratic Gov. Roy Cooper signed a so-called "repeal" of the law, but LGBTQ activists criticized the new legislation has having "doubled down" on discrimination.
On Tuesday, Equality NC and the Human Rights Campaign condemned the NCAA's reversal in a joint statement, saying the governing body had abandoned "its commitment to LGBTQ fans, players, and administrators by falling for this trick."
"By rewarding North Carolina with championship games, the NCAA has undermined its credibility and is sending a dangerous message to lawmakers across the country who are targeting LGBTQ people with discriminatory state legislation," JoDee Winterhof, HRC Senior Vice President for Policy and Political Affairs, said in the statement.
North Carolina passed HB2 in 2016. The law prohibited anyone from using a public restroom that does not correspond with their biological sex and prevents cities from passing anti-discrimination ordinances, and the NCAA pulled its 2017 tournament games from the state amid widespread boycotts and criticism — including from some of the biggest names in college basketball. 
Duke Coach Mike Krzyzewski called HB2 "embarrassing" and "a stupid thing," and North Carolina Coach Roy Williams said the law was "discriminatory" and "not right." (Williams' Tar Heels would go on to win this year's NCAA tournament.) 
The law was "repealed" this March with House Bill 142, but the legislation blocks anti-discrimination laws from being passed until 2020 and laws protecting transgender people completely — leaving the door open to HB2-like bills in the future.
But it was apparently enough to put the state back in the NCAA's good graces — something Equality NC called "unthinkable."
"HB 142 was a cheap political trick that did nothing to alleviate the concerns the NCAA initially outlined when it pulled games from the Tar Heel state last year, and even adds new forms of discrimination to North Carolina's laws," Equality NC Executive Director Chris Sgro said in a statement. 
"It is unthinkable that the NCAA would abandon its commitment to LGBTQ fans, players, and administrators by falling for this trick."