The Murdoch family might actually fire Bill O'Reilly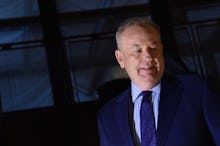 Fox might actually pull the plug on Bill O'Reilly.
According to the Daily Intelligencer, the Murdoch family — which owns 21st Century Fox and Newscorp — is "leaning toward" booting O'Reilly from the air, after a New York Times report detailing the host's penchant for sexually harassing women at work prompted upwards of 60 advertisers to drop out. As recently as Tuesday, it's also prompted protest on Fox's doorstep.
O'Reilly's ratings actually spiked in the wake of the Times report, but a source told the Daily Intelligencer that the loss of ad revenue was "worse than Glenn Beck," who was ousted from — or voluntarily left, depending on whom one asks — the network in 2011. O'Reilly's presence apparently threatens the Murdoch family's multi-billion dollar-deal with Sky Media, which will only go through if the British Office of Communications deems the Murdochs "fit and proper" to run the show. The date for that decision is May 16. 
O'Reilly, meanwhile, remains on vacation, but is set to return to The O'Reilly Factor in six days, according to the Intelligencer. If he does, he will reportedly find his female colleagues chagrined at Fox's failure to confront the corporate culture that has allowed sexual harassment to thrive. One key component of the Times report, after all, was Fox's complicity in O'Reilly's actions — together, the host and the network paid out more than $13 million to quiet women who came forward with sexual harassment claims. "Morale is awful," one woman at Fox told the Intelligencer.
James and Lachlan Murdoch are reportedly pushing for O'Reilly's termination, but their father, Rupert Murdoch, has not yet agreed. When Roger Ailes resigned his position as Fox News chairman and CEO in July, amid accusations of rampant sexual harassment, Rupert Murdoch replaced him, but he apparently sees this situation differently. Not only is O'Reilly still Fox's top-rated TV personality, but the Murdoch patriarch also fears people with think he's pandering to the Times.