"Managing the avocado cycle" is Brooklyn avocado bar's biggest, most relatable challenge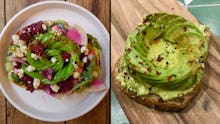 Three Italian men open an avocado bar in Brooklyn. That's not the punchline to a joke or the premise of a Saturday Night Live skit — it's happening IRL. 
Meet Alberto Gramini, Francesco Brachetti and Alessandro Biggi. They're the Italian-born brains behind Avocaderia, an all-avocado "bar" in Brooklyn, New York, that functions like a takeout spot for avocado toast fanatics. (There are currently four different avocado toasts on the menu. It's avocontrol.) 
After Brachetti lived in Mexico for three and a half years, he became obsessed with avocados and soon had Gramiani and Biggi hooked on the creamy, green fruit as well. In April, the three men launched their avocado bar concept after conducting a few pop-up shops in Brooklyn. Brachetti sources all the organic avocados from Mexico, and right now the team exclusively uses Equal Exchange avocados, which are sourced from small-scale farmers.  
"A lot of people tell us, oh there's another [all-avocado restaurant] in the Netherlands," Biggi said in an interview at Avocaderia. (He was referencing The Avocado Show, an Amsterdam restaurant that opened in February.) "But we started before, and it's a different concept." 
Whether or not Avocaderia is the first stateside spot dedicated to avocados, the crowds seem to dig the fare Biggi and his friends serve up. "We have people driving from Connecticut," Biggi said, noting that people line up outside the store before it opens at 11 a.m. on weekdays. 
People gobbled up so many of Avocaderia's green creations on the bar's opening day in April, the team ran out of avocados within three hours. "That was good and bad, I would say," Biggi conceded. 
"The great thing was that, because people were curious, they tried a lot of different stuff," he said, explaining that people ordered up to five dishes each.
These dishes are ripe for Instagram, and here's proof: 
Here's "Beet and Blue," a new toast featuring beets and blue cheese sprinkled on an avocado rose:
Then there's the "Let It Beet" toast topped with beet hummus, sunflower seeds, radish arugula and a honey mustard drizzle:
And here's the "El Salmon," topped with smoked salmon:
And the classic avo toast, which Avocaderia calls "Chill out." 
And if you're in the mood for something other than toast, there's always the avocado-stuffed salad options:
Greek salad, anyone? 
The unbearable unripeness of avocados
"Managing the avocado cycle, that's definitely one of the biggest challenges," Biggi said. Too real. But while you might anxiously await for one or two avocados to ripen on your kitchen counter, Biggi and his team have to ensure there are 100 avocados ripe enough to serve to customers each day. And because Avocaderia only gets one shipment of avocados per week, the team needs to ration the avocados — speeding up the ripening process for some and delaying it for others. 
Any avocado lover worth their toast knows determining when avocados are at peak ripeness is a delicate dance. Cut into an avocado too soon and you'll be greeted with a stiff, flavorless fruit. Wait too long and your avocado will be brown, stringy and unappetizing. For best results, you want your avocado to be not too firm and not to smushy, but just right, Goldilocks style. 
A ripening secret
How does Avocaderia guarantee it has 100 ripe avocados on deck each day? Biggi explained an intricate process for ensuring the fruit's peak ripeness: When a shipment of avocados comes in, the team "manages the different stages of ripeness of the avocados," he noted. 
Indeed, when this reporter walked into the shop at 10 a.m. before it opened, a team member was sitting on the floor of the shop feeling each avocado and appeared to be sorting them into different boxes. The team member —avocado whisperer, perhaps? — also appeared to be wrapping some of the avocados with brown packing paper. 
Biggi confirmed that Avocaderia uses paper to hasten the ripening process for some avocados. "When we need them to ripen faster, we wrap them in paper. We leave them outside, sometimes we put them next to bananas [to ripen them faster,]" he said. "Otherwise, we try to keep them green for them to last longer, we keep them in the fridge."
Mystery revealed! But how to make those glorious avocado roses that perch atop the toasted creations? That's a secret they'll never tell.