'El Chapo' crime drama reveals how the drug kingpin's reign nearly ended before it began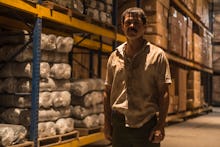 On Jan. 8, 2016, notorious Mexican drug kingpin Joaquín "El Chapo" Guzmán was recaptured after escaping prison through a mile-long tunnel several months earlier. It wasn't the first time El Chapo had pulled a disappearing act — in 2001 he bribed his way out of another prison. But, according to Univision's new El Chapo, the drug trafficker was also arrested by the DEA in 1985. Just like in 2001, he was released after giving authorities a bribe — $15 million, to be exact.
The first episode of El Chapo, a crime drama based on real events, begins with archival footage of Guzmán shortly after his arrest in 2016. The show then rewinds to 1985. There we see not the unstoppable leader of the Sinaloa cartel, but an underling clawing his way up through the ranks. 
Guzmán, played by Marco de la O, hasn't even finished construction of his now-infamous tunnel connecting Mexico and the United States, but he's eager to prove he can run more than just marijuana across the border. He rushes into a dangerous deal with Colombian drug lord Pablo Escobar to smuggle two tons of cocaine into California in just two short days — it normally takes seven, according to scenes from El Chapo.
At this point in history, Guzmán has yet to establish himself as the ruthless, billionaire drug lord we know from his later years. He wasn't leading the "biggest drug operation in the world" and running cocaine, methamphetamine and heroin to all corners of the globe — and he wasn't murdering people in droves. He was far from innocent, but he was also a far cry from the El Chapo that was arrested in 2016. 
According to the series, there was a critical moment during Guzmán's first major cocaine run that could have put him behind bars and potentially stopped his reign of terror before it ever truly began. While driving two tons of cocaine through backcountry roads in Mexico, El Chapo notices he's being followed by the DEA. A chase and gunfight ensues that results in El Chapo and his men crashing. Guzmán is handcuffed and placed in the back of a DEA vehicle, and he quickly starts trying to talk his way out. The DEA agent, referred to as Peter, isn't interested — that is until Guzmán offers him a cool $10 million plus an additional $5 million to be distributed amongst the other DEA agents. The deal is sealed and Guzmán is set free to complete his drug run. But is this scenario based on fact, or just artistic liberty? According to Silvana Aguirre, the creator of El Chapo, this might have actually happened.
"There are journalistic records about dealings between the Sinaloa cartel and DEA agents. The scene is a representation of that," Aguirre told Mic through email correspondence.
It's a relatively quick scene in the first episode of El Chapo, but it represents a pivotal moment that could have changed history. If Guzmán had been placed behind bars in 1985, when he had far fewer resources and influence than during his later incarcerations, it likely would have been much more difficult for him to escape prison. This could have been the moment that stopped El Chapo in his tracks, but instead, corruption won out, according to the scenes depicted in El Chapo. He was released to resume his path towards becoming one of the most feared, ruthless and powerful drug lords in history.
El Chapo premieres on Univision April 23 at 8 p.m. Eastern and is set to be released on Netflix at an undisclosed later date.
Mic has ongoing Netflix coverage. Please follow our main Netflix hub here.