McDonalds workers stalled Facebook killer Steve Stephens for police as he ordered fries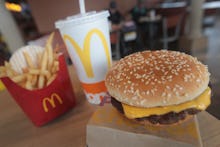 Before the police chase that would end in him taking his own life, Steve Stephenson — the man accused of brutally killing a 74-year-old man on Easter Sunday and filming it — stopped at a McDonald's in Erie, Pennsylvania for the meal that would end up being his last.
In the midst of an intense manhunt that had been underway for him since Sunday, Stephens, 37, reportedly pulled up to the drive-thru to order a "20 piece Chicken McNuggets and a basket of fries," according to Cleveland 19. Any hopes for a quick meal were dashed, however, when an eagle-eyed employee recognized his face from television and called 911.
Henry Sayers, the store's manager, said that his employees tried to act natural while the suspected killer idled at the window. In an interview with GoErie.com, he said that the staff told Stephens that his fries "were going to be a minute" in an attempt to stall him until police arrived.
Thomas DuCharme Jr., owner and operator of the McDonald's, told the site that Stephens seemed to sense that something was fishy almost immediately.
"I am pretty sure he figured out that we were on to him," he said. "He didn't want to wait for his fries."
Stephens sped off without the fries, but police were soon in hot pursuit. Cleveland 19 reports that the chase lasted for about two miles before Stephens took his own life.
Stevens, who had worked as a children's mental health counselor in Cleveland for almost a decade, had recently reached "breaking point" due to gambling debts and a failed relationship with a former girlfriend, according to Cleveland.com.
According to Cleveland police, Godwin's killing appears to have been at random.