Donald Trump said he was "sending an armada" to North Korea. He lied.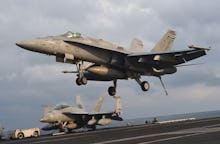 President Donald Trump, who on April 12 said he was "sending an armada" that was "very powerful" to the western Pacific Ocean to deal with North Korea and its autocratic leader, Kim Jong-Un, apparently lied about the destination of those U.S. warships.
The strike force, which included the aircraft carrier Carl Vinson and four other warships, was not heading toward the Sea of Japan at all, but instead in the opposite direction, toward the Indian Ocean, to take place in pre-scheduled joint exercises with the Australian Navy, the New York Times reported Tuesday.
White House officials, including National Security Adviser H.R. McMaster and press secretary Sean Spicer, also provided inaccurate information about the status and direction of the carrier group, promoting widespread concerns the U.S. was preparing to unilaterally attack North Korea over its nuclear program.
Numerous media outlets, including the Times and Mic, took the administration's description of the armada's current mission verbatim; the Times noted the deception was only caught after the Navy posted a photo of Carl Vinson in the Sunda Strait near Indonesia.
According to the Times, the carrier group is now in fact headed to the Korean Peninsula, and White House officials have portrayed the incident as a mixup caused by internal processes at the Pentagon.
While the administration was telling the public the carrier group was heading to North Korea immediately, however, many believed a preemptive strike on the regime amid its incessant missile testing was imminent.