Who is Holden on 'Pretty Little Liars'? Old character makes return in season 7, episode 11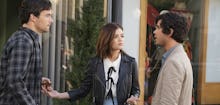 Where in the world is Holden Strauss? Well, he's in Rosewood, of course. Aria's old childhood friend hasn't been featured on Pretty Little Liars since season three, but he's set to make his triumphant return in season seven, episode 11 on Tuesday. 
So, where has Holden been? What has he been up to? And why is he all of a sudden resurfacing? Fans of the longtime Freeform series will hopefully get some answers soon.
Who is Holden Strauss?
For those who can't keep track of the list of minor characters in Pretty Little Liars, Holden was introduced in season two as Aria's classmate and an old family friend. Holden lived in Portugal for a year and befriended Aria when he returned. Because Aria's parents trusted Holden, they allowed her to go out on dates with him. But in reality, the two usually headed in separate directions after meeting up. Aria used her date night to run off to see Ezra. Holden used his time to compete in martial arts tournaments — something his parents disapproved of because of his heart condition.
"I have an abdominal aortic aneurysm, OK?" Holden told Aria in episode 20 of season two. "It means that I got to live with it. It could rupture whether I'm out doing what I love, or I'm at home playing Apples To Apples with my parents. I'm not going to spend the rest of my life sitting in front of the TV. Especially when there is a decent chance it's going to be shorter than everyone else's."
Holden's last appearance was in season three, episode six. He ran into Emily and it was revealed that he partied with Noel Kahn on a couple occasions.
What's next for Holden?
Photos from episode 11 tease that Aria and Holden will reunite, but it's not clear if it will just be a quick scene or important to the storyline. He might be returning to pay his respects to Noel, who died in episode 10.
His return could also potentially play a role in Aria's relationship with Ezra. The two were supposed to get married in the first half of season seven, but Ezra's missing ex-girlfriend, Nicole, resurfaced before they could tie the knot. One photo from Tuesday's installment previews an awkward moment between Aria, Ezra and Holden.
Mic has ongoing Pretty Little Liars coverage. Check out our main Pretty Little Liars hub here.