A plane flying a banner calling for Bill O'Reilly's firing flew over Manhattan on Tuesday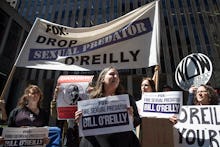 It's a bird, it's a plane — it's a banner calling for the firing of an alleged sexual harasser. 
On Tuesday, feminist grassroots organization UltraViolet took their message for Fox News to the sky, commissioning a plane to fly a banner over Manhattan reading, "Fox: #DropOReilly, the sexual predator."
The banner was part of a protest UltraViolet organized outside Fox News Midtown Manhattan headquarters the same afternoon calling for O'Reilly's dismissal. 
The Fox News host is facing allegations of sexual harassment from multiple women, five of whom received settlements totaling $13 million in exchange for their silence. 
Since O'Reilly announced on April 11 that he was taking a two-week vacation from his eponymous show, word has spread that O'Reilly may not be coming back. On Tuesday, news broke that the Murdoch family, the owners of 21st Century Fox and News Corp, is "leaning towards" ousting O'Reilly from the network — largely due to the more than 60 advertisers who've pulled their commercials from his show. 
During Tuesday's demonstration, sexual assault survivor and Color of Change and UltraViolet member Jodeen Olguín-Tayler said it may already be too little too late for those women who've endured O'Reilly's alleged harassment.
"The deepest scars are the burns from the institutions, the leaders, the people who I asked for help — and who had the power to make it stop — but who did nothing," she said. "Fox News has done worse than nothing."
Correction: April 19, 2017