'Wall Street Journal': Fox is getting ready to wash their hands of Bill O'Reilly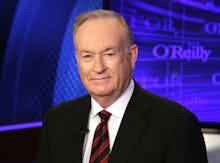 The Fox News media empire is preparing to cut its ties with right-wing commentator Bill O'Reilly in the wake of weeks of controversy over his $13 million in settlements with former female employees he allegedly sexually harassed, the Wall Street Journal reported Tuesday night.
Advertisers have fled O'Reilly's show in scores following the April 1 New York Times article detailing the settlements, leaving the host sponsored mainly by mouthwash, free-to-play games and other D-list advertisers. Meanwhile, pressure has mounted on Fox to drop the show.
O'Reilly has been on vacation for the past week, though he insists his Easter trip was planned in advance.
Notably, both Fox and the Wall Street Journal are owned by the same person: Australian-born mogul Rupert Murdoch, suggesting the Journal scoop about O'Reilly's departure is being floated by the same person who would ultimately have the final say on such a decision.