3 takeaways from Georgia's special election, where a Democrat outperformed expectations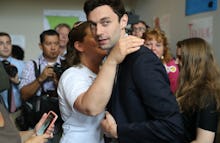 The special election in Georgia's 6th Congressional District is headed to a runoff after Democrat Jon Ossoff was unable to cobble together more than 50% of the vote in Tuesday's contest.
In the June 20 runoff, Ossoff is set to face Republican Karen Handel, the former Georgia secretary of state who has run multiple failed campaigns in the Peach State.
While Democrats are disappointed that Ossoff couldn't put the race away on Tuesday and avoid a runoff, he outperformed public polls — and just missed meeting that 50% mark.
Here are are three takeaways from Tuesday's results.
The anti-Trump sentiment is real
Georgia's 6th Congressional District — located in a chunk of wealthy and educated Atlanta and its surrounding suburbs — has not been competitive in decades.
Republican presidential nominees like Mitt Romney and John McCain have won it with 61% and 59% of the vote, respectively. And the district's former representative, Tom Price, carried it with at least 61% or more of the vote since he was first elected in 2004. 
That all changed with President Donald Trump, who only won 48% of the district's vote in 2016, barely beating Hillary Clinton's 47% showing.
Trump's underperformance in the district led Democrats to target the seat for a pickup in the special election to replace Price, who left Congress to lead the Department of Health and Human Services. 
The district's aversion to Trump appeared to trickle down into the House race. 
Ossoff nearly pulled off a victory in the first-round jungle primary, in which all candidates, regardless of party, ran on the same ballot. Ossoff needed 50% of the vote to win outright, but fell just shy at about 48%.
The fact that Ossoff outperformed public polls, which had him in the low-40% range, and nearly captured 50% of the vote in an 18-candidate field caught Republicans' eyes.
What's more, Ossoff outperformed Hillary Clinton's margin in the district in 2016, squeezing out more votes even in Cobb County — the most Republican of the counties that make up the seat.
It's a sign the anti-Trump movement is real.
The runoff will be competitive
Conventional wisdom said if Ossoff fell below 50%, his chances at winning a runoff would be slim. But elections analysts still rate the race a toss-up.
"We have to assume this will be competitive for the duration of the race," Georgia GOP political strategist Chip Lake said in an interview.
That's partly because Ossoff's GOP opponent, Handel, comes with baggage. She's lost multiple statewide elections, including a bid for governor in 2010 and Senate in 2014. 
Handel also didn't run away with the race among the 10 other GOP candidates she faced. And she'll now have to energize and turn out those voters who backed other Republican candidates.
Even more, Handel was forced to resign from her role as vice president of public policy at the major breast cancer charity Susan G. Komen for the Cure after she worked to cut the charity's funding to Planned Parenthood.
That's a line of attack Democrats are likely to play up in the runoff. 
"Today's voting shows the congressional race split roughly evenly, between Democrats and Republicans," Stu Rothenberg, a non-partisan election analyst, said in an interview. "Handel needs to unify the GOP vote, while Ossoff must get his voters to turn out again in big numbers. Both sides have challenges. The runoff looks tight."
Waiting for election results is as bad as being stuck in Atlanta traffic
Results in this district had to be driven to their county election offices to be tabulated. It all took a while. And we mean a while.
Polls closed at 7 p.m. Eastern. Yet by 11:30 p.m., only a little more than half of the vote had been tabulated. That's a glacial vote-counting pace.
While traffic problems in Atlanta might've contributed to this horribly slow process, there was also a notable problem with voting machines. Multiple reports late Tuesday night said a glitch from a bad card read in a tabulation machine caused Fulton County — the largest county in the congressional district — to start from scratch, starting over manually.
Here's hoping the results on June 20 come in without any hitches — and a little quicker.