Deported DACA "Dreamer" Juan Manuel Montes is suing the Trump administration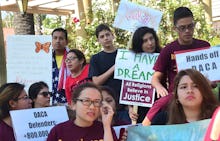 Twenty-three-year-old Juan Manuel Montes was deported to Mexico in February despite the fact that he had protected status under the Deferred Action for Childhood Arrivals program. Now he's suing the Trump administration.
Montes' case is believed to be the first case of a DACA "Dreamer" having been deported. President Donald Trump had previously suggested that young people with DACA status may continue to be protected from deportation even under his nationwide immigration crackdown, but Montes' case indicates that the estimated 740,000 young "Dreamers" may not retain the protected status they gained under Obama.
Montes came to the United States at the age of 9, according to a statement from the National Immigration Law Center. He had worked in agricultural fields and attended a local community college, where he studied welding, according to the NILC. Montes also has a cognitive disability from a traumatic brain injury he sustained as a child. 
In February 2017, Montes was reportedly visiting his girlfriend in Calexico, California, when he was detained by border patrol. Although he reportedly told officials he had DACA status — his ID was in a friend's car — he was questioned in a local station. According to the NILC, officials "made him sign documents without allowing him to see an immigration judge, seek counsel or obtain copies of the documents he signed."
Within hours of being detained, Montes was deported to Mexico. NBC News reported that Customs and Border Patrol officials claimed that Montes' DACA status had expired, but Montes' lawyers have reportedly shown copies of his work authorization card that show his DACA status doesn't expire until 2018.
"I was forced out because I was nervous and didn't know what to do or say, but my home is there," Montes said in a statement from the NILC. "I miss my job. I miss school. And I want to continue to work toward better opportunities. But most of all, I miss my family, and I have hope that I will be able to go back so I can be with them again."
Now, Montes and his attorneys are suing the Trump administration, "demanding that the federal government turn over key information about his sudden deportation," and arguing that immigration officials failed to show any legal basis for deporting Montes. 
"We look forward to presenting our case to the court, because our client has the right to know why and how he was physically removed from the United States when he had permission to live and work here," Montes' attorney, Mónica Ramírez Almadani, said in a statement from the NILC.