Fresno Shooter: What we know about Kori Ali Muhammad's motive in Tuesday's shooting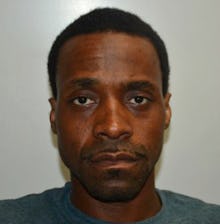 Kori Ali Muhammad, 39, is in police custody after allegedly gunning down three white men in a what is said to have been a racially motivated killing spree in Fresno, California, Tuesday.
Muhammad — who shouted "Allahu Akbar" as he was being arrested — is also a suspect in the killing of a security guard outside a Motel 6 lon April 13, and is facing four counts of murder and two counts of attempted murder.
Muhammad allegedly wanted to be part of a "race war"
According to the Muhammad's father, the shooter considered the killing spree part of a race war between black and white people. Muhammad rapped and posted online messages about "white devils," frequently referencing the Nation of Islam — which the Southern Poverty Law Center has designated a hate group — on social media.
On Tuesday, a group of interfaith leaders in Fresno denounced the killing spree.
"This individual does not represent our faith or our community," Imam Seyed Ali Ghazvini of the Islamic Cultural Center of Fresno told the Fresno Bee. "This individual does not represent your Muslim neighbor, your Muslim classmate or your co-worker. The Muslim community in the Valley are working hard for the well-being of our society and country."
Muhammad had previously been hospitalized due to mental illness
Muhammad — born Kori Taylor — claimed insanity in 2005 after being arrested on drug and weapons charges. According to a court filing by his attorney at the time, Muhammad "appeared eccentric with some bizarre beliefs" and a psychiatrist believed he had psychosis. He also apparently had at least two mental health hospitalizations and suffered auditory hallucinations.
According to police, Muhammad was homeless and was "disassociated" from most around him.
Just before his killing spree on Tuesday, police released a statement that Muhammad was armed and dangerous and was wanted in the death of the Motel 6 security guard — who was also white. Police say Muhammad wanted to kill as many white people as possible after learning he was a suspect in the earlier shooting.
"These individuals who were chosen today did not do anything to deserve what they got," Police Chief Jerry Dyer said. "These were unprovoked attacks by an individual that was intent on carrying out homicides today. He did that."