SNES Classic Edition Release Date: Rumored Super Nintendo Mini will follow NES Classic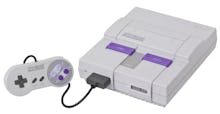 The NES Classic may be discontinued, but a possible SNES Classic Edition may be on the horizon. Nintendo introduced its miniature NES console to the world last year as a reimagining of the 1985 Nintendo Entertainment System. 
According to EuroGamer, a SNES Classic could give the Super Nintendo a similar treatment. The new classic console, rumored to be called the SNES Mini, could see a release date of holiday 2017.
SNES Classic Edition release date: NES Classic-style console rumored for holiday 2017
The Super Nintendo was released as a follow-up to the original NES, so it's only right that a SNES Classic Edition, or SNES Mini, would trail its NES counterpart. 
Like the new NES, the SNES Mini could have thirty or so of the console's best games come with it. Instead of requiring you to buy each game individually or change cartridges, the games would likely be saved to the tiny system's internal memory. If Eurogamer's source is accurate, we could see this come our way this winter. 
Let's just hope this one brings multiplayer right out of the box by including a second (wireless) controller. 
SNES Classic Edition release date: How could the SNES Mini tie into the Nintendo Switch?
More than a month after its release, the Nintendo Switch remains without a virtual console in its eShop. While 3DS and Wii U gamers are able to play NES and Game Boy games and more, the Switch offers no such option. 
Worst case scenario, Nintendo says the only way to play these old games are on these old consoles. Or, in a perfect world, Nintendo finds a way to tie in the SNES Mini with the Nintendo Switch. We imagine a world where buying the SNES Classic Edition unlocks the Super Nintendo games for your Switch. Or, at the very least, presents buyers with a discount.
We won't know the intricacies of the SNES Mini until Nintendo brings us an official announcement of the stocking stuffer. Let's hope they don't wait that long to also bring Switch owners classic games.
Check out more Nintendo news and coverage
Looking for more Nintendo coverage? Learn why the Switch cartridges taste so bad and how blind gamers are joining in on the Switch fun. Check out our comparison photos sizing up the Switch to the Wii U GamePad (part one and part two), find out how to make use of ethernet without the dock and the best way to get alerts when new stock arrives.