'Stranger Things' star Shannon Purser, aka Barb, comes out as bisexual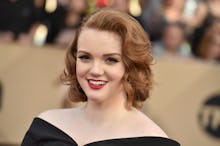 Stranger Things and Riverdale star Shannon Purser has come out as bisexual.
After receiving some criticism over a now-deleted tweet about Riverdale fans who ship Veronica and Betty, Purser apologized Tuesday and came out in a note posted to Twitter. She had been accused of "queerbaiting" and wanted to set the record straight herself, admitting that being part of the LGBT community is still new for her. 
"I have never heard the term 'queerbaiting' in my life until today. That being said, I have never ever wanted to alienate anyone and my tweet was thoughtless," Purser apologized. 
She followed her coming out with "Psalms 42 God is too kind to me" and then asked fans, "Should I confront the creature living in my attic, or?" 
This is not the first time that the 19-year-old actress has opened up about something personal. Purser previously revealed on Twitter that she used to self-harm and had suicidal thoughts in middle school.
In February, the actress spoke with Us Weekly about her struggle with depression and anxiety. 
"I felt very isolated," she told the outlet. "I'm pretty introverted and I spend a lot of time in books, a lot of time thinking and by myself, because that's what I enjoy to recharge. So self-harm was something I could turn to that made me feel like I was doing something about all the negative feelings I had."
Mic has ongoing TV coverage. Please follow our main TV hub here.