Victoria's Secret's 2017 #WhatIsSexy List slammed for serious lack of diversity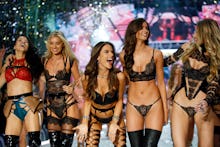 Victoria's Secret should have seen this one coming. 
Over the weekend, Victoria's Secret released its annual #WhatIsSexy list, a roundup of the sexiest people in entertainment, with very necessary categories like sexiest rising songstress and sexiest DJ.
Want to know what VS considers sexy in 2017? Take a gander at this list. 
"Bold. Powerful. Confident," Victoria's Secret wrote above the winners. "That's what sexy means to us." 
But to people on the internet, looking at this list for the first time, those didn't really seem like the real credentials. The credentials to be on this list more so looked like "White" and "Thin" and "Young." 
Indeed the list is predominantly white (save for women like Chrissy Teigen and Priyanka Chopra) and thin, with no plus-size people included except for the one man — James Corden — who was named "sexiest late night host." 
For a company that's been explicitly called out for promoting a beauty ideal that involves being very young and very thin and very white, and a company that continues to exist in an industry where diversity in all its forms is being promoted, the list felt to so many like a step back. 
In 2007 this list may have flown. In 2017? Not so much. 
That was evident in Twitter's outrage as well. 
What's curious here too is that last year, the list was far more diverse. The "Forever Sexy" title went to Jennifer Lopez. Kerry Washington was named sexiest actress. Rashida Jones nabbed sexiest sense of humor. This year, not a single black woman appeared on the list. 
So really, the 2017 list didn't just feel like a step back, it was a step back from a more diverse definition of what is sexy for VS. And as with their runway show too, Victoria's Secret clearly remains hesitant to include plus-size or even just curve models. 
At this point it's clear that while other lingerie companies are rushing towards a more realistic, inclusive future, Victoria's Secret is hanging back. 
Mic has reached out to Victoria's Secret for further comment.